Wondering what to wear in Egypt? You've come to the right place! In addition to a complete Egypt packing list, there are also guidelines for everything you will need to pack for a trip to Egypt.
We'll cover appropriate attire for women in Egypt (men too), the Cairo dress code and 10 essential items you may be forgetting on your Egypt Packing list.
We found Egypt to be modern, yet conservative. What to wear in Egypt is pretty straightforward but definitely different for men and women. Just follow these few key packing tips you'll be visiting Egypt with confidence.
You will also find a comprehensive Egypt packing checklist at the bottom, including travel gear and which items to leave at home.
This site uses affiliate links, meaning if you make a purchase through our links, we may earn a commission. You can read our full disclosure policy here.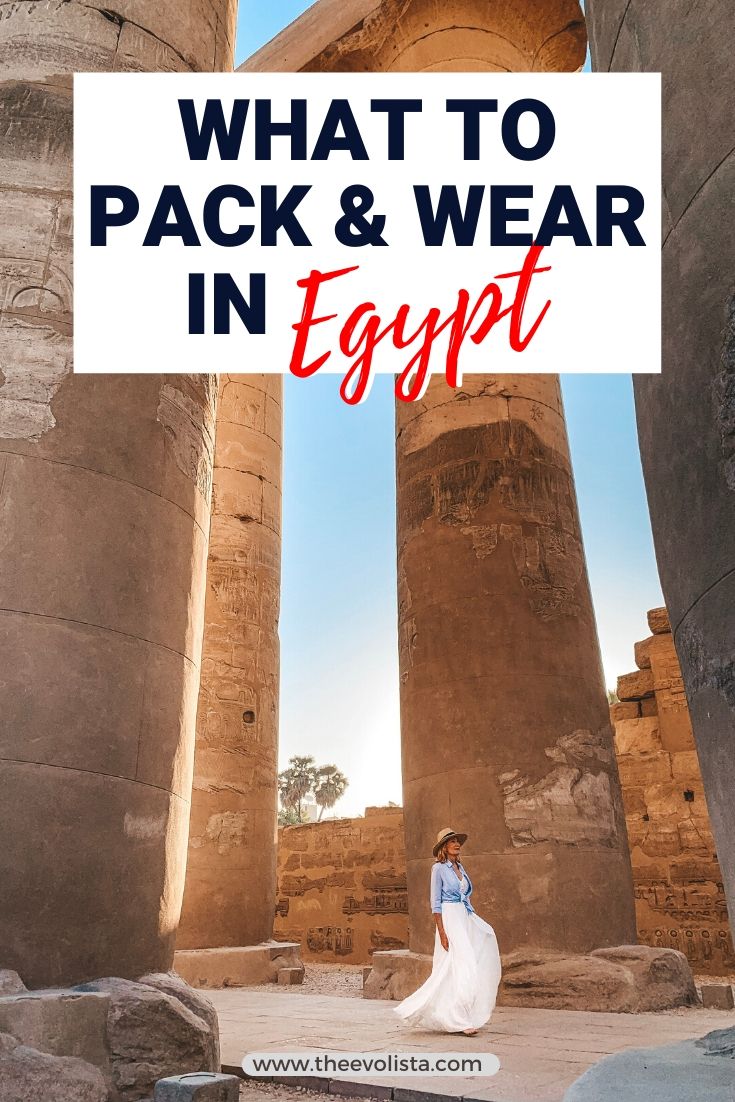 Weather and the Best Time to Go to Egypt
The weather in Egypt is something you will want to consider although the majority of the year has pretty high temperatures.
High season – the most popular time to visit, is the winter. December through February has warm daytime temperatures and cool weather by night.
Shoulder season – occurs from October-November and March-April. This time of year is very hot during the day, and so it is best to plan activities for the morning and evening. Book a hotel with a pool to be comfortable mid-day.
Low Season – May through September temperatures can be excruciatingly hot, so I don't recommend visiting during those months.
What to Wear in Egypt for Women & Men
There are two things people are typically thinking of when trying to figure out what to wear in Egypt. The first is the temperature. Egypt is a desert which means most of the things on your packing list will be for warm, dry weather.
The second and bigger consideration, is the type of clothing that is appropriate for a conservative country like Egypt. The good news is that modest clothing for Egypt doesn't mean that you have to be fully covered all the time.
Since the sun can be very strong, sunscreen and a hat is essential. Closed toe shoes work the best when you are out touring dusty monuments. A mask will protect you from germs and also help with the dust.
Typically this is a trip where you move around a lot so it will make your life easier if you can pack everything for Egypt in a carry-on suitcase.
Since all your clothing will be lightweight, it will be easy to pack in a smaller bag. Compression packing cubes can help you fit everything into a smaller suitcase as well.
---
What Men Should Wear in Egypt
In Egypt, men dress smartly. They wear pants and a short sleeve or long sleeve shirt. Some wear the more traditional abaya, which they jokingly refer to as Egyptian air conditioning.
My husband wore shorts and he was assured by people that it was okay but no Egyptian men wore shorts. Men can generally wear what they want in Egypt.
---
What to Wear in Egypt for Women: Egyptian Outfit
The Egyptian dress code for women is conservative but a little more modern in Cairo than other parts of the country.
Choose lightweight and airy clothes that don't expose a lot of skin.
Outside of beach resorts, crop tops or anything showing your stomach is a hard no.
Shorts are typically for resorts or cruises. You can wear them in a big tour group but choose shorts that are long enough to cover your butt. If you're NOT in a big tour group, don't wear shorts anywhere you wouldn't wear a bathing suit.
I wore shorts to the train station in Luxor, attracting unwanted attention and almost died of embarrassment. You can see the video that shows it all here.
My Egyptian outfit consisted of a midi or maxi dresses that were short sleeved or sleeveless. Then I added a long sleeved button up shirt and/or scarf when necessary and I wore sneakers.
Many taxis don't have air conditioning, so being able to get rid of sleeves will be a godsend. You can also wear t-shirts with pants or long skirts. Just make sure they aren't low cut showing cleavage. You can also pack this Mini Fan.
---
The Cairo Dress Code
What you wear in Cairo might be different than other parts of your trip. Cairo is a big city with great restaurants and nightlife. You can wear what you would typically wear for a night out as long as it is conservative. There is no dress code per se in Egypt.
Egyptian women wear the same things we do including fitted clothing like skinny jeans and leggings.
They typically wear loose, long sleeved tops with high necklines (no cleavage showing). They don't wear tank tops, anything with their stomach showing or mini skirts.
For the Pyramids of Giza, you will need modest clothing that offers sun protection. Again, I recommend a sleeveless dress and carrying something to put on top when necessary. It is very hot and there's no place to get out of the sun.
Mosques in Cairo require women to have shoulders covered, long skirts or pants and head covering. They will typically have you remove your shoes.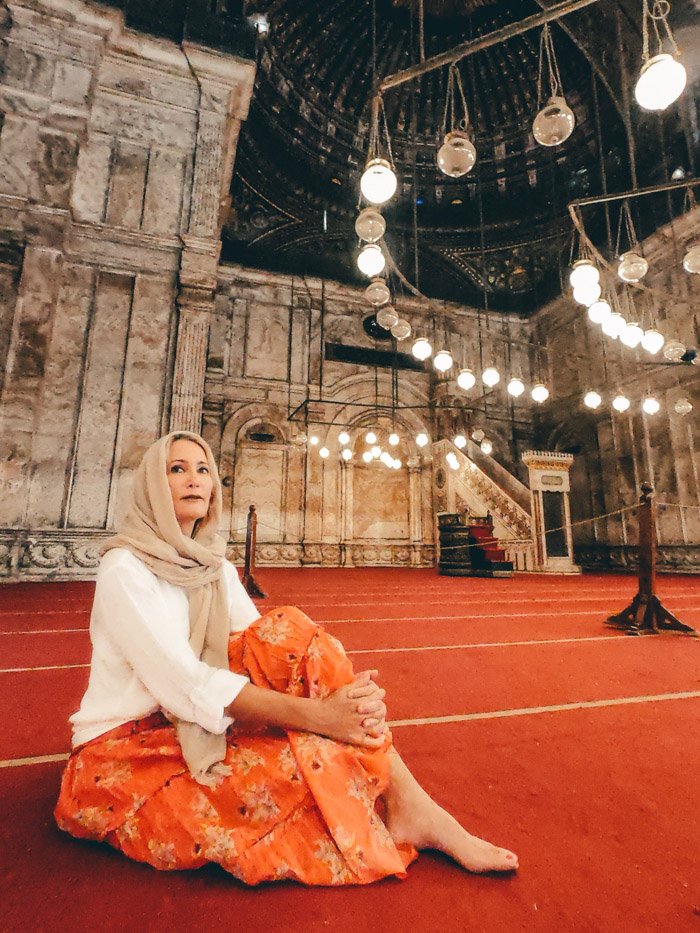 10 Things You Will Want to Pack for Egypt
If you are wondering what the best clothing to wear in Egypt is, check out these 10 essential you will want for your Egypt trip..
1. When Packing for Egypt a Scarf Should be #1 on Your List
Something that most people don't think to pack for warm weather is a scarf but you will wear it often in Egypt. Bring one like this lightweight linen beach gauze shawl that can also cover your shoulders. It is necessary to have your head covered in a mosque.
I brought a scarf but forgot to take it with me when we were going shopping in Cairo. We happened upon a beautiful mosque and they wouldn't let me in without putting on this borrowed, unfortunately smelly, abaya.
The moral to this story is to pack a light-weight scarf or two in your bag AND it carry with you.
2. Hat to Block the Sun is an Essential Part of Your Egypt Outfit
The sun can be brutal and you'll find many times when you can't find a shady spot. You will wear a hat constantly in Egypt. A wide brim straw hat is the best to block the sun.
I like to take an inexpensive packable hat with me that I don't mind losing or damaging. Other people prefer a designer packable hat that you can put in your suitcase.
I also brought a fedora hat to change up the look a bit. Two hats are easily packable to if they fit inside each other.
3. A Sun Umbrella is Also a Great Idea for Your Egypt Packing List
The inexpensive 50+ UV protection sun umbrella I packed for Egypt was a lifesaver at the Pyramids of Giza. We were out in the sun for hours with no shade protection and it cut down the amount of heat, which made all the difference.
It comes in 5 different color combinations. We tested umbrellas with white and black underneath. The black underneath was definitely cooler and cut down glare.
To take it up another notch, this double sun umbrella will provide even better protection. The umbrella is so compact that it's easy to pack in your suitcase or daypack.
4. A Power Bank to Keep Your Phone Charged
A typical day trip in Egypt means that you'll be using your phone for navigation, photos, videos, getting an Uber and staying in touch. Often that means being out all day or hours traveling between cities. You need to charge your phone on the go.
One of the most important items on your packing list for Egypt is a portable power bank that can charge up to 3 devices simultaneously. You can easily keep it in your pocket or purse all day long and get 3 full charges out of it.
5. Step Down Power Converter and Plug Adapter for Egypt
When you get back at night and are ready to charge your electronics, you need an Egypt plug adapter and a step down voltage converter .
An international power adapter will work for your phone, computer and dual voltage appliances. Anything that's NOT dual voltage needs a step down voltage converter.
Our favorite step down voltage converter has traveled with us all over the world since 2018. This converts the power from 220 volts to 110 volts so you don't burn out your USA appliances. It has 2 110V outlets and 4 USB ports to charge everything at once.
The voltage converter can take the place of the power adapter if you don't need more outlets.
Since you can't buy a step down voltage converter overseas, it's one of the most important items for your Egypt packing list.
6. Long Sleeve Button-Down Shirt
While Egypt is a more progressive middle eastern country, it is still important to be respectful of the culture and religious beliefs of its people. Furthermore, Egypt is hot.
To stay as cool as possible and protected from the sun while sightseeing, yet still maintain a respectful demeanor, a basic button-down shirt is a must for your Egypt packing list.
Not only is it a versatile piece of clothing for Egypt, but you will wear it during the day or out at night.
7. Wear Comfortable Shoes for Sightseeing in Egypt
There are endless sights to see throughout Egypt, many of which require walking on paths and often through dirt. Since you'll be doing a lot of walking, your shoes need to be comfortable and protective.
My favorite sneakers to wear on vacation are super comfortable, inexpensive, easy to clean off and they get replaced when necessary. They were perfect to wear in Egypt for almost everything. Don't bring sneakers you can't get dirty.
Beyond having regular walking shoes, when going into town to shop for food or trinkets, or even just lounging around the hotel, it's always nice to have a pair of open, breathable sandals to throw on when you aren't doing anything too strenuous.
6. Dresses for Egypt
When people ask me what to wear in Egypt, my first answer is a lightweight maxi dress. I found this super soft, lightweight jersey fabric, cami maxi dress that doesn't wrinkle, comes in 22 colors and is the best deal.
The other dress I found and love is this button up, short sleeve maxi dress that comes in tons of prints and colors. It's also a great deal and the flowy skirt looks amazing for an Instagram post .
You could pack 2 of each of these dresses to your list for Egypt and barely use any of your packing space. That's how lightweight and perfect they are.
With a long sleeve shirt to go on top, you would have 8 outfits. You might also consider a lightweight maxi skirt for more versatility.
9. An Anti-Theft Purse or Anti-Theft Back Pack Will Keep Your Items Safe in Egypt
Anti Theft Purse
An anti-theft travel purse or safe back pack is a must at the bigger tourist sights in Egypt. Tourists are an obvious target for pickpocketing,
You will find people trying to sell you scarves or things they can use to cover your bag while they grab something.
Protect yourself with a secure cross body bag or safe travel back pack that zips up completely and locks. We also recommend hiding an AirTag inside so you can track your bag if it's lost.
This anti-theft cross body bag has a locking main compartment, slash resistant straps and RFID blocking slots for your credit cards and passports. It also has plenty of room for your phone, a charger, makeup and an AirTag if it is lost or stolen.
For Egypt, I wore a small cross body travel wallet that held my credit cards, passport, phone and a few extra things like lip gloss and hand sanitizer.
The cross body strap held it in front of me and I kept my hands on it when walking through a crowd. The other reason I really like it is because it easily fits in my travel backpack so it's not an extra item for carry on.
Backpack
My husband carries this roll top camera backpack that is much safer than a normal pack. The roll top is impossible for a pickpocket and the part that opens the side of the bag is placed against your back.
They now make an 11 liter backpack for women and men that works great for a day pack.
Bag Locks and Tracking
Buy an AirTag for each one of your bags like your checked suitcases so you know where they are at all times even if the airline doesn't. Also, if someone steals your bag, you can track it immediately.
Also get a cable lock to keep the front compartments of your backpack secure. These small things are inexpensive and will give you complete peace of mind.
10. Pack a Mini Fan & Sunscreen to Beat the Heat in Egypt
Rechargable Mini Fan
One of our favorite travel accessories for warm destinations is this Mini Fan. It fits in your pocket and has 3 functions. Use it as a handheld electric fan or fold it and set it on a desk in your hotel room. It also doubles as a flashlight!
The fan operates for up to 20 hours on one charge. Then just plug it in to a USB charger. This is one of the best travel items ever!!
Sunscreen
As we all know, most of Egypt is desert land. In addition to hats and sun umbrellas, you really need high SPF sunscreen that you apply throughout the day.
If you are just staying in cities, use a weightless, clear 30 SPF sunscreen that also works as a makeup primer. It's my go to everyday sunscreen and it's perfect travel size will last you for the whole trip.
If you are heading to the Red Sea for water sports and active pursuits, use a broad spectrum reef friendly SPF 50 sunscreen.
Related Post: The Best Egypt Itinerary 7 Days in Cairo, Luxor and Aswan
---
Packing List for Egypt Checklist
Passport with at least 6 months of validity
Credit cards, ATM Card and some cash including $25 for visa on arrival
Driver's License and insurance card if you plan to rent a car
A hardcopy of your Travel Insurance policy
Computer
Cell Phone
T-shirts
A lightweight sweater or light jacket
PJs
Socks
Underwear
---
Things to Leave off Your Egypt Packing List
Shorts – Although we typically wear shorts in high temperatures, Egypt is extremely conservative. It is best to not show much skin unless you are on a specific tour or Nile river cruise where shorts are allowed.
Tank tops and crop tops – Unless you are by the pool or beach, these shouldn't be worn.
Heavy jackets – you will rarely ever need any heavy clothing in Egypt. To cover up, a light cardigan or button-down shirt is perfect.
Valuables – It's important to leave as many valuables as possible behind. Tourists are very easily targeted, especially in popular destinations, so make sure to keep your essential valuables close to you.
Drone – we were stopped each time at the airport with our camera equipment. You cannot use a drone so don't bring it.
---
Practical Information for Egypt
Egyptian Visa & Money
In Egypt, Visas are offered upon arrival. This means that when land in Cairo, you can enter the country by purchasing a visa. In this case, make sure you bring along 25 USD exactly and purchase your visa before entering customs.
We had no problem with this, although we arrived very early in the morning. You can purchase your Egypt visa in advance here, or if you are on a tour, they will likely coordinate the visa process with you.
The currency in Egypt is Egyptian pounds. Cash is necessary and there are many ATMs available throughout the country. However, there is a limit as to how much you can withdraw so be aware of that.
Safety in Egypt
Even though this is definitely not something you would typically find in a packing guide, many people worry about safety in Egypt. There are some things you can do to plan ahead.
Start by looking up the Egypt Travel Advisory to be aware of any current issues. Since things are constantly changing in the world, we highly recommend travel protection.
There are 2 ways we protect ourselves. We book our tickets with our Chase Sapphire Preferred that has built in travel protection and we use SafetyWing travel insurance. If we ever need to cancel a trip, we are totally covered.
One last note regarding safety: always be aware of your surroundings. No matter where in the world you travel, even if it is within your own country, be alert. Tourists are always a target. The less touristy you look, the better.
As mentioned above use a secure travel purse or secure backpack to protect yourself from petty theft. For more information read our Egypt Travel Tips.
---
Planning Your Trip to Egypt Last Minute?
Here is a quick reference guide to the tours and hotels we recommend.
TOP EXPERIENCES & TOURS IN EGYPT
BEST HOTELS IN EGYPT
You can also get more detailed information on our 7 Day Egypt Itinerary and 15 Things to Know Before Traveling to Egypt for important Egypt travel tips. Lastly, there are short videos for Aswan, Luxor and Cairo on our YouTube channel.
Want to Save What to Wear in Egypt or this Egypt Packing List for later? Pin It!
Other Posts You Might Like: