Looking for the most beautiful cities in France? The country of croissants, cheese, champagne, art, and so much more has been the most loved travel destination for years and years.
Although most visitors choose Paris first for a weekend break in France, it's just one of the great places to explore. Whether you prefer a laidback sojourn in Provence or a party-filled adventure in the French Riviera, the land of the Eiffel Tower has something to offer to everyone.
Here is a list of the 17 most beautiful cities in France and the best activities to try in them. We've also included some of the best hotels in France so you know where to stay. Some are so amazing, you might plan your holiday around them.
For extra inspiration, check out the 22 Most Beautiful Cities in Spain and 25+ amazing things to do on our Europe Bucket List.
Most Beautiful Cities in France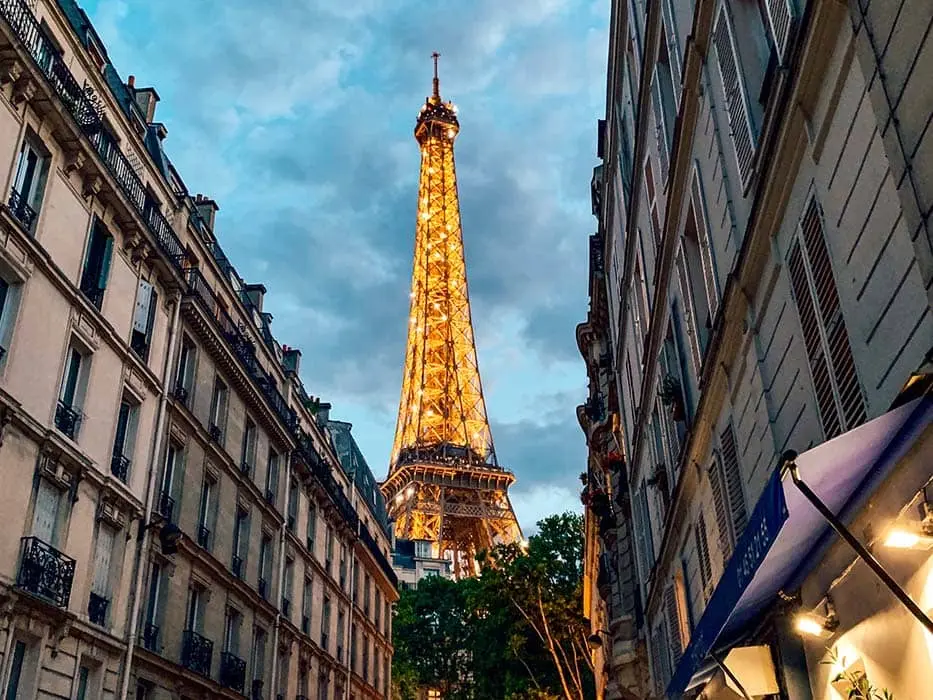 Paris
Known as the capital of love, there's a good reason Paris is the ideal for a weekend break in France. The 2nd most visited city in the world is a global center for art, design, and gastronomy.
From the iconic Eiffel Tower to the Arc de Triomphe, Paris is a city full of charm and breathtaking sights. While most people come for the romantic atmosphere, there's plenty of amazing cultural and historical attractions to explore as well.
The city hosts some of the world's best museums – the Louvre, Musee D'Orsay, and Picasso Museum – that are magnificent in their scope. It's best to get a skip the line ticket so you can have as much time as possible to see the masterpieces within.
Other interesting things to do include visiting the Paris Catacombs, strolling the neighborhoods of Montmartre and Le Marais and catching a show at the Moulin Rouge.
Immerse yourself in Parisian life with nights full of music, cosy cafes and stylish restaurants. Take a relaxing promenade along the Seine or enjoy amazing gardens such as Tuileries Garden or Luxembourg Gardens.
Don't forget to take a day trip to the Palace of Versailles. It's truly a sight to be seen
HOTEL: Cheval Blanc Paris & Dior Spa Cheval Blanc Paris is one of newest, most beautiful and chic hotels in Paris.
Strasbourg
The ultimate Christmas destination is quite different from other parts of France. In fact, the chief city of Alsace seems more similar to Germany. With its fascinating history and heritage, the capital of the Alsace region is a city worth visiting.
Remember to see the European Parliament (or at least have a look at the building from outside), admire the Strasbourg Cathedral, take a Half Day Alsatian Wine Tour and the most photogenic area in the city – La Petite France. HOTEL: Hôtel & Spa Le Bouclier D'or
RELATED POST: 5 FAIRYTALE ALSACE CHRISTMAS MARKETS
Gordes
Decades ago, Gordes, a commune set in southeastern France, gained a reputation of being the place for artists. If you are looking for a taste of Provence, there is no better place to visit. With its winding streets, cobblestone paths, and surrounding beauty, it has become one of the most loved destinations in the area. We suggest planning your trip from mid-June to mid-July. Then you will have the chance to see flowering lavender fields. HOTEL: Airelles, La Bastide de Gordes
RELATED POST: PROVENCE LAVENDER FIELDS FOR YOUR EUROPE BUCKET LIST
Bordeaux
Bordeaux is a must for wine lovers and visiting Bordeaux's wine museum, La Cité du Vin should be high on your list. All around the city, you will notice magnificent castles and beautiful vineyards, and stunning architecture. So what should you do in one of the most beautiful cities in France? Catch a performance at the Grand Theatre, walk through Place de la Bourse, cruise the River Garonne, go wine tasting in Saint-Emilion and stop by the Musee des Beaux-Arts. HOTEL: Yndo Hôtel
Marseille
The second-largest city of France, nestled on the Mediterranean coast, is known for its wonderful weather and plenty of sunny days. If you wish to have an experience unlike any other, take a day cruise to Les Calanques – the natural park is full of stunning beaches, turquoise water offset by limestone cliffs and breathtaking views. You'll also love strolling the Old Port and catching the view from Basilique Notre-Dame de la Garde. HOTEL: Hotel C2
Lyon
Set in the east-central part of the country, Lyon is considered one of the prettiest cities in France. Nowadays, it is mostly known for outstanding cuisine and gastronomy, making it the perfect destination for foodies. When visiting Lyon, stop by the districts of Old Lyon, the Presqu'île, and the slopes of the Croix-Rousse, which are included in the UNESCO World Heritage List. Make sure to taste Rosette lyonnaise and Saucisson de Lyon – they are to die for. HOTEL: Hôtel de l'Abbaye
Nice
When looking for the most beautiful French cities, Nice definitely comes high on the list. For decades, the leading resort city of France has been a loved travel destination for both locals and tourists. Fantastic climate, excellent beaches, and breathtaking views – what is there not to love! Stroll through the Promenade des Anglais and admire the beautiful sea. Discover Vieille Ville – the oldest part of the city and spend an afternoon in Monaco and Monte Carlo. Perfectly located on the French Riviera, you can take fabulous day trips from Nice. HOTEL: Boscolo Nice Hotel & Spa
Bonifacio, Corsica
The southernmost point of the French island of Corsica is the hidden gem of Bonifacio. This stunning, historic French city is built along the limestone clifftops overlooking the Mediterranean. The active marina is a perfect place to wander and eat fresh seafood in a Michelin star restaurant. Climb the Staircase of King Aragon, to the Citadel, go for hikes, soak up the sun on the beach at Santa Giulia Bay or visit the nearby Lavezzi islands. HOTEL: Hôtel & Spa Version Maquis Citadelle (9.3) or Hôtel Cala di Greco (9.4)
RELATED POST: BEST PLACES TO VISIT IN EUROPE IN APRIL
Rochefort-en-Terre
Rochefort-en-Terre, in Brittany, has been voted one of France's most beautiful villages. Although small in size, there is plenty to do and see. Wander around the narrow streets, admire the architecture including half timbered houses adorned with geraniums and go on a shopping spree at one of the local ateliers. One of the nicest things to see here is the lighting in the evening and at Christmas. HOTEL: Domaine du Kelenn
Dinan
When exploring the Brittany region, make sure to include Dinan in your travel plans. The beautiful town is well known for its exceptional architectural heritage. Taking a stroll through the historic part of Dinan is a must-do. If you are looking for a bit of a cultural dose, explore the Dinan Castle-Museum, The Basilica St. Sauveur, and Saint-Malo Church. HOTEL: Perlépampille
Menton
Are you a fan of lemons? Menton, nestled at the Franco-Italian border, is famous for its citrus, especially its yummy "citrons". In fact, every year from mid to late February, an extraordinary event takes place in the gorgeous town – Fete du Citron. While vacationing at Menton, not visiting a garden is a crime. So don't forget to include the Jardin Serre de la Madone, the Fontana Rosa, and the Maria Serena garden on your itinerary. HOTEL: Hotel Napoléon
Villefranche-Sur-Mer
The picturesque old town was founded already in the 14th century. Nowadays, it has become a loved escape for many. In some ways, Villefranche-Sur-Mer resembles Monaco or even Nice but is a lot more laid-back. Have a delicious meal at one of the waterfront restaurants. Discover the beautiful streets of Old Town and admire the 16th-century Citadel. HOTEL: La Réserve de Beaulieu
Biarritz
Famous for its idyllic beaches, great surf spots, delicious gastronomy, and excellent golf courses, there is no doubt that Biarritz is one of the most beautiful cities of France. Whether you are looking for a luxurious escape or a budget-friendly fun-filled getaway, you will easily find something suited to your needs. Remember to pay a visit to one of the largest aquariums in Europe, which includes more than 20 aquarium tanks. HOTEL: Le Regina Biarritz Hotel & Spa MGallery Hotel Collection
Annecy
Looking for the perfect few days trip to France? Then heading to Annecy is your best bet. Perched at the tip of the gorgeous Lake Annecy, the beautiful city is full of sites to see and explore. Enjoy the numerous nautical activities available, and make sure to eat your way through Annecy's old town. Visiting "the Venice of Alps" will surely be an experience unlike any other. HOTEL: Hébé Hotel
Carcassonne
Located in the department of Aude, the fortified city will quickly capture your heart. Thanks to its sunny and warm weather and beautiful seaside scenery, it is the perfect holiday destination. Soak in all the history at Château Comtal and Ramparts and visit the impressive Basilica of Saints Nazarius and Celsus. Carcassonne, one of the most beautiful cities in France, will be a pleasant discovery. HOTEL: Hôtel du Château & Spa – Les Collectionneurs
Avignon
For its historical heritage, large parts of Avignon have been listed as UNESCO World Heritage sites. Palais des Papes might just be one of the most impressive palaces in Europe. In fact, you could fit four gothic cathedrals in there. But historical buildings are not the only thing the southeastern city is known for. The best time to visit Avignon is in July, when public performances for the OFF theatre festival are held and the nearby Provence Lavender fields are in bloom. HOTEL: Hôtel Le Bristol
Honfleur
The charming town nestled in Normandy has more than 1000 years of history. Those who love medieval architecture and the ocean will surely enjoy a trip to the city in the north of France. One of its most impressive sites is Vieaux Bassin – the port of Honfleur. Even if you have never been to Normandy, you have probably seen the view of the houses surrounding the port because many impressionist painters captured them in their work in the 19th century. HOTEL: Hôtel Saint-Delis – La Maison du Peintre – Relais & Châteaux
Final Thoughts About the Best Weekend Breaks in France
France is full of beautiful cities and charming villages. Have a glance at Mona Lisa, taste some macaroons or perhaps wander around the lavender fields of Provence – either way, you are guaranteed to have a fantastic time.
There is a good reason that France is the most visited country in the world. These beautiful cities in France are all perfect for a weekend getaway or make a full vacation out of a visit to a few of them on one trip.
Other Posts You Might Like:
Save The Most Beautiful Cities in France to read later? Pin it!