Planning a trip to Ireland, the land of intrigue and beauty? If you are looking for a taste of all that the Emerald Isle has to offer, then this is the perfect 7 day Ireland itinerary for you.
To see as many things as possible, it's best to see the country in a one week Irish road trip. Our Ireland vacation Itinerary has natural wonders, exciting cities, heavenly countrysides and more, all packed into 7 days.
Movies set in Ireland showcase the spectacular landscape and exude that Irish charm. Throw in the cool accent and some fun pubs and it makes for an awesome trip.
This is the perfect Ireland itinerary if you love a fast paced, fun trip and wait until you see what's on tap for the last few days in Northern Ireland!
This post contains affiliate links. If you book or buy something through one of these links, we may earn a commission at no extra cost to you. You can read our full disclosure here.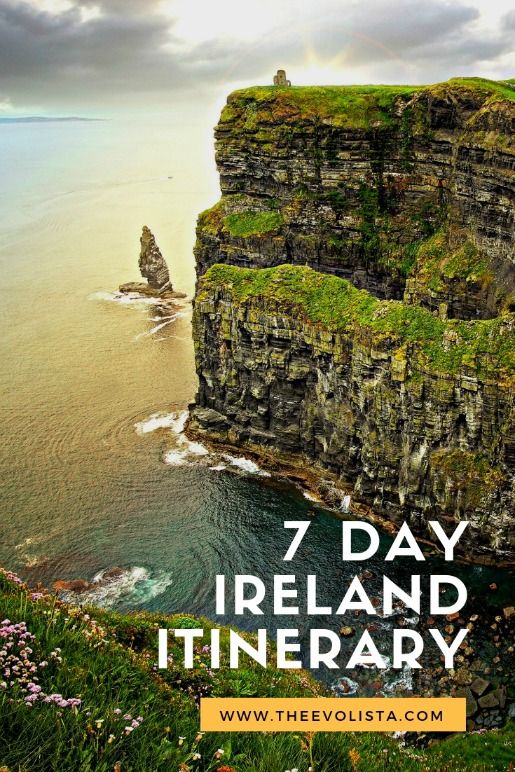 Best Time to Travel to Ireland
The best time to travel to Ireland is the spring and fall. It will allow you to skip the busy summer crowds.
Thankfully the crowds in Ireland are not as heavy as other mainland European destinations. But places like the Ring of Kerry and Cliffs of Moher are filled with tour busses during the summer.
Also, if you are planning a self-drive Ireland itinerary, which we highly recommend, and are unfamiliar with driving on the wrong side (hehe) of very skinny roads, you won't want to be dealing with the busses either.
Ideally May, June, September and October are the best months to visit Ireland. You will have decent weather and a chance to take in all the fun activities Ireland has to offer.
Weather in Ireland
Spring – Temperatures range from 46 – 60F gaining most of the warmth in the latter half of May. Spring sees lots of sunny days and flowers are in bloom.
Summer – The warmest (60-70F) and driest months are July and August with up to 18 hours of daylight. Expect plenty of sunny moments but know that you will also have lots of cloudy days too. Don't forget to pack a jacket.
Fall – Autumn colors abound and the temperatures drop slightly (50-65F) with more rainy days.
Winter – Definitely the chilliest (39-42F) and rainiest time to visit. The wind picks up and the fog rolls in. Snow can happen but is unusual. Warm up the way the locals do in Irish pubs.
---
Is 7 Days in Ireland Enough?
You could easily spend a few weeks in Ireland but the reality is that most people have a limited amount of time. The country is small enough that you can cover a lot of ground in just one week in Ireland, on a self-drive road trip.
So let's buckle up and get moving through the cities and countryside towns of the Emerald Isle. This 7 day Ireland itinerary will give you the must see places to visit in Ireland for the first time.
We had to make some choices, like missing Cork and the Blarney Stone but we added in Northern Ireland and the Antrim Coast which was unparalled. I think you'll make the same choice when you see the pictures below!
---
Getting to West Coast Ireland to Start Your One Week Ireland Trip
From Dublin Airport, you can take a train (4 hours) or drive (2.5 hours) to get to the West Coast of Ireland.
We flew directly into Shannon airport, because it was easy to get flights. Another bonus for flying into Shannon is that the airport is much smaller and less crowded than Dublin airport.
If you plan to spend time in the area, before heading off on your Irish road trip, check out nearby Bunratty Castle.
We landed at 6am and it wasn't open yet but it is supposed to be a step back in time, a folk park in a real medieval castle.
Shannon is also minutes away from the city of Limerick. We spent the morning in Limerick, starting with breakfast at Hook and Ladder, the most delicious cafe and bakery.
Limerick is somewhat small and accessible on foot. We walked around to see some sights, including King John's Castle, a 13th-century riverside fortress.
With 1 week in Ireland, we didn't plan to spend time in Limerick, however, if you are interested in sticking around, here are 23 fun things to do in Limerick.
---
7 Days in Ireland Itinerary
Day 1: Killarney National Park, Muckross House, Ross Castle
Day 2: Dingle Peninsula, Slea Head Drive
Day 3: Cliffs of Moher, The Burren, Dunguaire Castle
Day 4: Galway, Connemara National Park, Kylemore Abbey
Day 5: Wicklow Mountains, Powerscourt Estate
Day 6: Dublin, Trinity College, Book of Kells, Guinness Storehouse
Day 7: Giant's Causeway, Antrim Coast, Belfast
7 Day Ireland Itinerary – West Coast
Start your one week Irish road trip in County Kerry and plan to stay 2 days. If you are planning a 10 to 14 day Ireland itinerary, you should plan 3 days in this area.
Where to Stay in Killarney
We stayed at the Great Southern Killarney, in the town of Killarney. It's a nice hotel and centrally located. The rooms were both spacious and spotless, and the staff was great.
The Killarney Park Hotel was more noteworthy but unfortunately fully booked. Downtown Killarney is a lively tourist town that has pubs, music and shops.
Day 1: Killarney National Park
First up on this Ireland 7 day itinerary is a visit to Killarney National Park. It's a place where magical panoramas of mountains, lakes, and woodlands leave you wondering if you've somehow stumbled into a fairy tale.
As you wander through the moss-laden paths, prepare to be serenaded by birds and greeted by the noble red deer, Killarney's resident celebrities.
Oh, and if you feel a gentle caress of mist on your face, fear not, for it's the famed Irish weather just ensuring you don't forget where you are.
MUCKROSS HOUSE & GARDENS
Muckross House, shown above, is the crown jewel of Killarney National Park. Stepping onto the grounds of this magnificent 17th-century estate feels like a delightful journey back in time.
The exquisite house was completed in 1843. Take a one-hour guided tour through the splendor of the estate, adorned in resplendent Elizabethan style.
But the pièce de résistance lies in the Muckross Gardens, a horticultural masterpiece crafted to impress none other than Queen Victoria herself in 1861.
Admire the exotic trees standing tall, the whimsical Rock Garden, the enchanting Water Garden, and the mysterious Sunken Garden – all curated to create a marvel worthy of royalty.
Once you've soaked in the history and elegance, make haste to the charming cafe tucked amidst the gardens, where a scrumptious bite awaits to satiate all whims and fancies.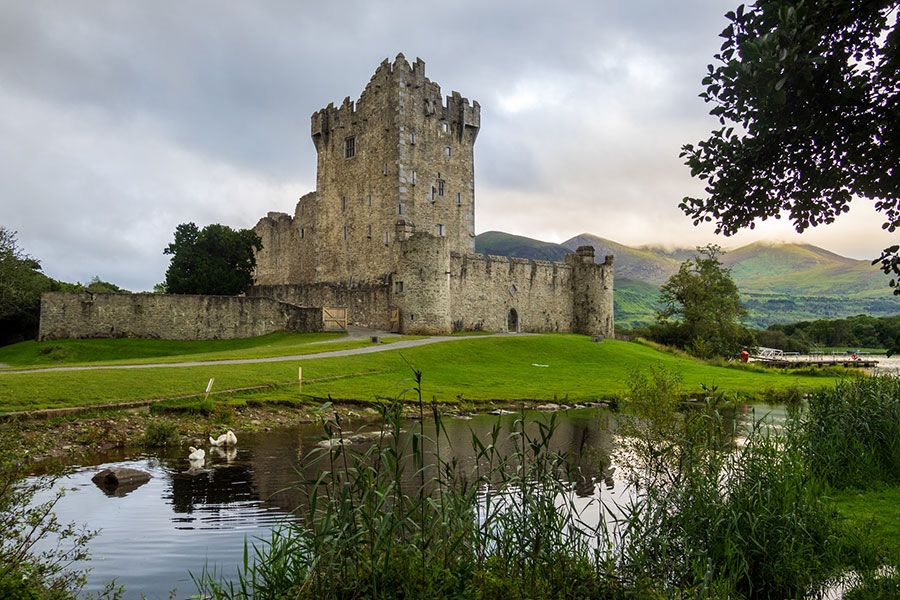 ROSS CASTLE
Ross Castle was built in the 15th century and amazingly still stands today. Nestled on the edge of the enchanting Lough Leane, Ross Castle stands as a majestic testament to the O'Donoghue clan.
From March to November, you can tour this ancestral home's many nooks and crannies. The tour explains the set up of a castle and how life worked there.
As you venture through the well-preserved rooms, you'll learn the stories and legends that are a veritable feast for the imagination.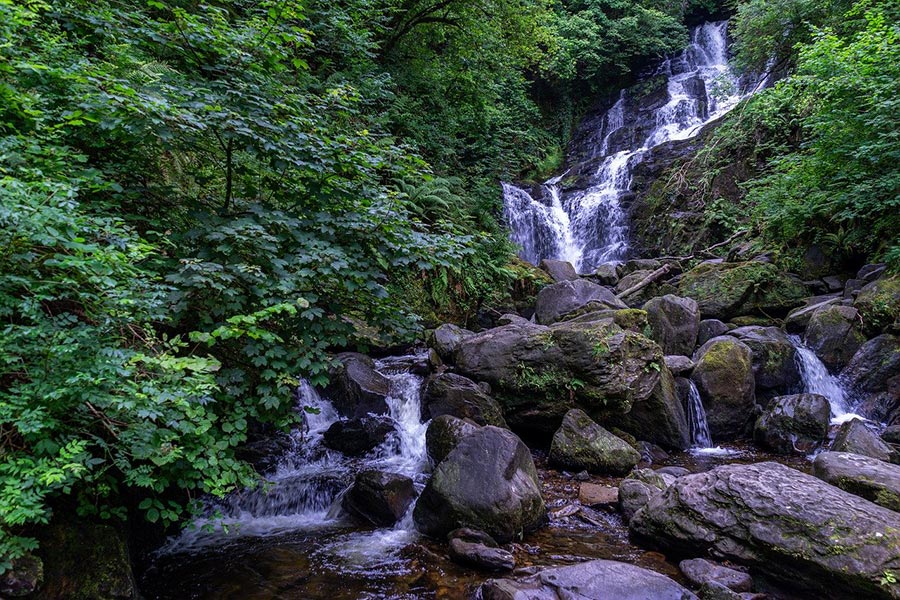 TORC WATERFALL
Torc Waterfall is an easy hike through a pristine area of Killarney National Park. As you get higher, there is a gorgeous view of the valley below.
Just 2.5 km from the enchanting Muckross House, the beautiful Torc Waterfall awaits your adventurous spirit. This 66 ft high and 360 ft long wonder is the result of the Owengarriff River draining from the aptly named Devil's Punchbowl lake.
Your journey there might trigger a game of musical chairs with your fellow adventurers, thanks to the infamous parking situation.
Our advice? Carpe diem with an early bird visit or embrace your inner Lance Armstrong by renting a bike in town, letting those wheels guide you through the wonders of Killarney National Park.
To see the breathtaking views of the valley below, embark on the 1.5 hour Cardiac Hill walk or scale the heights of the awe-inspiring Torc Mountain Walk.
Day 2: Dingle Peninsula
We decided against the Ring of Kerry tour because that's where all the tour buses were going. Instead, we headed out to the Dingle Peninsula for a different view of the Wild Atlantic Way and I'm so glad we decided to drive ourselves.
It was about an hour's drive, on Irish roads (just like the ones you see in the movies). Driving in Ireland, on the other side of the road, is not that disconcerting,
I got way more comfortable after a few hours and I was so glad because it is definitely one of the best ways to see Ireland for the first time.
The size of the road is the only thing that's a little stressful. Imagine driving at a fast speed on a road that's the width of 2 parking spaces shared by you and oncoming traffic.
Slea Head Drive is a 26 mile loop that has striking views of the coast. You can drive in about an hour or make a day of it and rent bikes at Foxy John's hardware store on Main Street.
Dingle is a cute little sleepy town. If you have always wanted Dingle Ice Cream, this is the place to get it!
Humor abounds in Dingle. It's also a great place to do a pub crawl at night and hear some Irish folk music.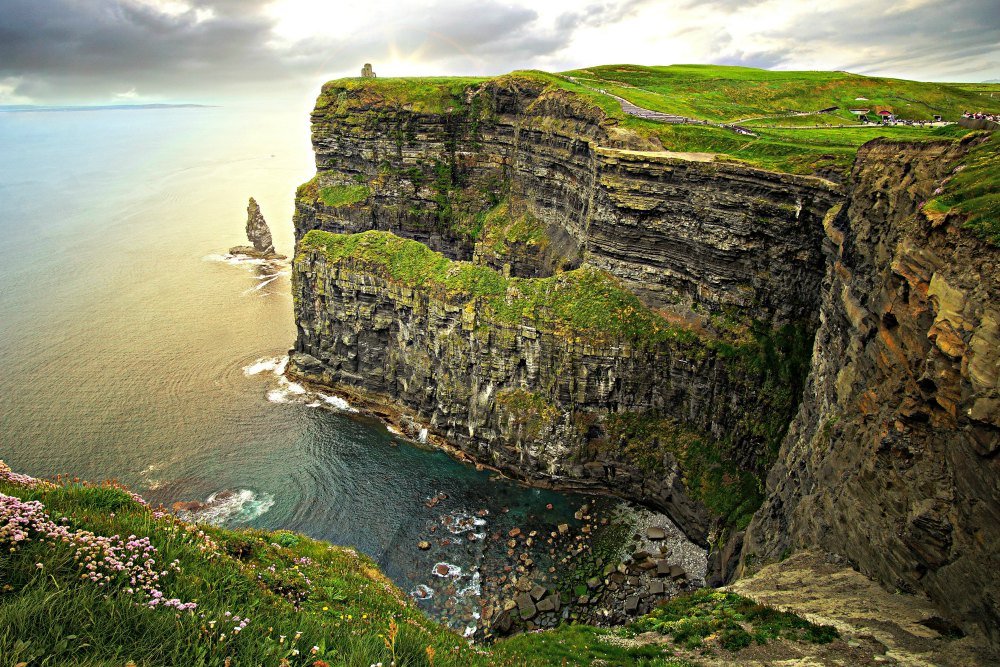 Day 3: County Clare With a Stop at The Cliffs of Moher
With 7 days in Ireland, we planned a transportation day filled with sightseeing the majestic sites of County Clare.
The drive time is 4.5 hours from Killarney to Galway but you will never be in the car for more than an hour at a time today.
Those that are planning a 10 day Ireland road trip itinerary might want to stay overnight in Doolin to spend more time visiting the Cliffs of Moher, the coastal trail and the Burren. You can also add a day trip to the Aran Islands.
CLIFFS OF MOHER
The Cliffs of Moher is one of the iconic views in Ireland. Carved originally by ice, they are 700 feet tall at the tallest point and run for more than 8 miles. There is a coastal trail you can walk that links the villages of Liscannor and Doolin.
Surely, you can partake in the age-old tourist tradition: drive up, snap a photo, and leave in under an hour. But, we recommend wearing comfortable shoes, and embarking on one of the delightful walks the cliffs have to offer.
Take a two-hour round trip saunter to a romantic location like Hag's Head, with its archaic watchtower and jaw-dropping views. Or drink in the coastal wonders on a 2 hour journey on foot to the charming village of Doolin.
For those who yearn for a different vantage point, you can do a boat tour that flaunts the cliffs from below.
READ NEXT: 27 EUROPE BUCKET LIST ADVENTURES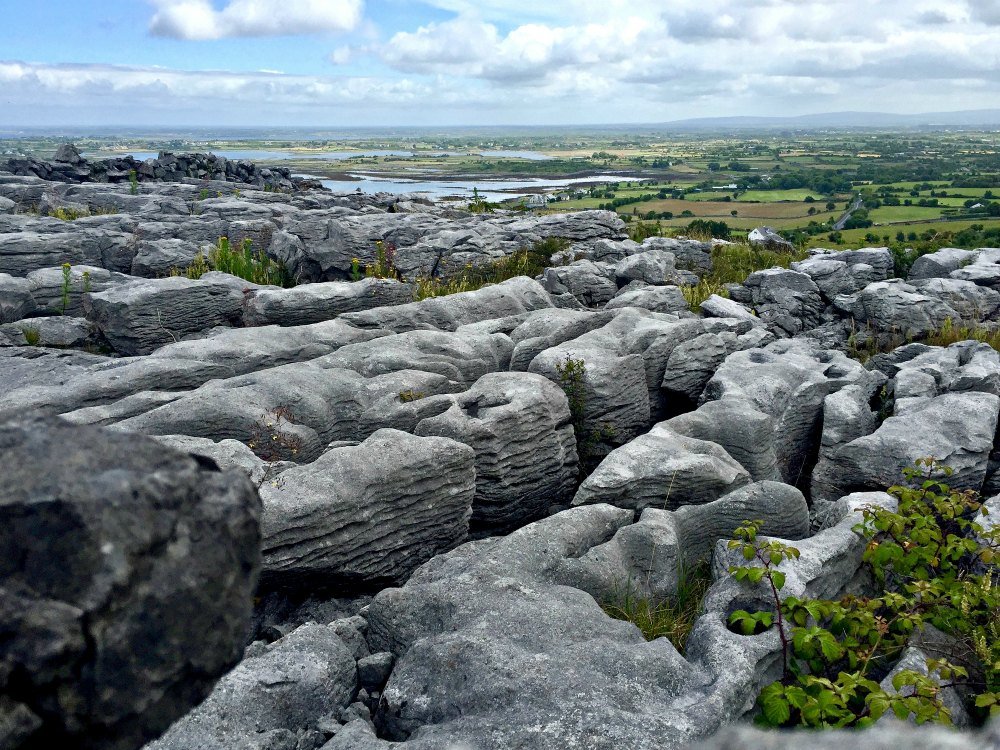 THE BURREN
The mystical wilds of Ireland, where one can find the unparalleled beauty of the Burren, is one of the treats of exploring the Emerald Isle. Wait until you see the views!
Since its inception as a national park in 1991 and subsequent establishment as a UNESCO Global Geopark (the Burren & Cliffs of Moher), this Irish gem has attracted adventurers and nature lovers alike.
Stepping onto the terrain of the Burren feels as though you're traversing an otherworldly landscape, with its seemingly extraterrestrial geology and eerie crevices. It's so much cooler than we expected!
The area has tons to offer, like the ancient and wondrous Doolin Cave. And for those who prefer a more adrenaline-fueled experience, the Burren has you covered.
With Geopark heritage trails to walk, kayaking voyages to embark upon, surf-fueled sessions to be had, and cycling adventures to undertake, the Burren is sure to titillate both your mind and spirit!
DUNGUAIRE CASTLE
After visiting the Burren, stop at Dunguaire Castle, 35 minutes before you end your day in Galway.
Do you have a dream board? I had a photo of Dunguaire Castle on mine forever. This charming relic of Irish history, stands proudly on the shores of Galway Bay.
Its picturesque beauty has earned it the rumored title of the most photographed fortresses in Ireland. No wonder it was on my dream board – and I might add that seeing it in person was completely worth it.
Constructed in 1520 by the industrious O'Hynes clan, this restored tower house has not only withstood the test of time but was a meeting place of Ireland's literary revivalists including George Bernard Shaw and William Butler Yeats.
A mere 30-45 minutes is all it takes to tour this architectural gem, yet its magic manages to leave a lingering impression.
And for those seeking a more enchanting experience, attend one of the medieval banquets held from April to October. You will be served a scrumptious four-course dinner with fine wines and entertainment.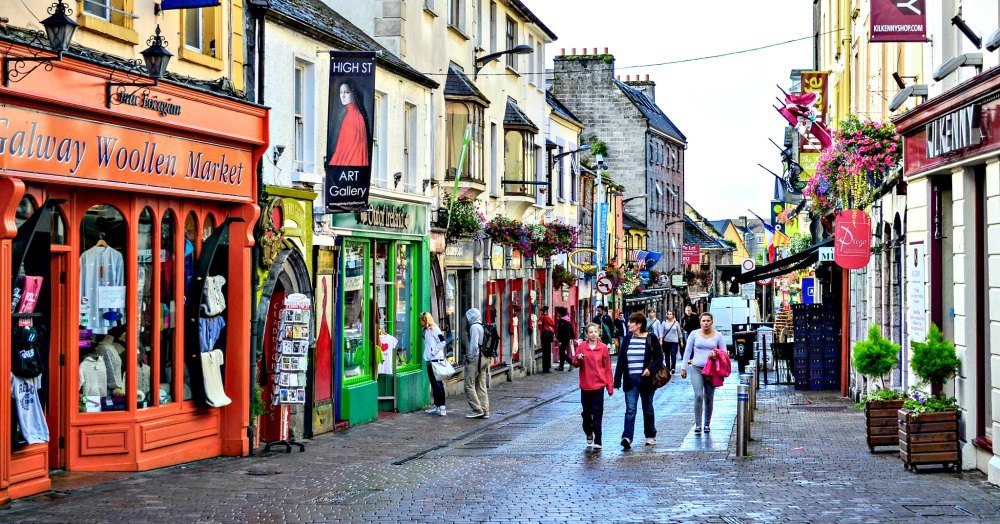 Day 4: County Galway
The city of Galway is at the innermost point of Galway Bay. Along the coast of Galway you will find everything from castles to white sand beaches to small villages.
The city of Galway is the largest in the west of Ireland. It is a 2 hour drive from Dublin and a very lively and friendly place. Galway was very different and much bigger than I expected.
Start with a walking tour of this charming Irish city. Meandering down the 18th Century streets is so much fun with all the shops, art galleries, and restaurants galore.
As you jaunt through the cobbled streets of the Latin Quarter, you'll pass jovial pubs filled with music to get your foot tapping and more than enough Guinness to go around.
Galway is one of the best places to visit in September for its famous International Oyster Festival.
Other things to do include visiting the Galway City Museum, the Galway Cathedral, or a walk on the Salthill Promenade as the fresh sea breeze tussles your hair, with sweeping views of Galway Bay by your side.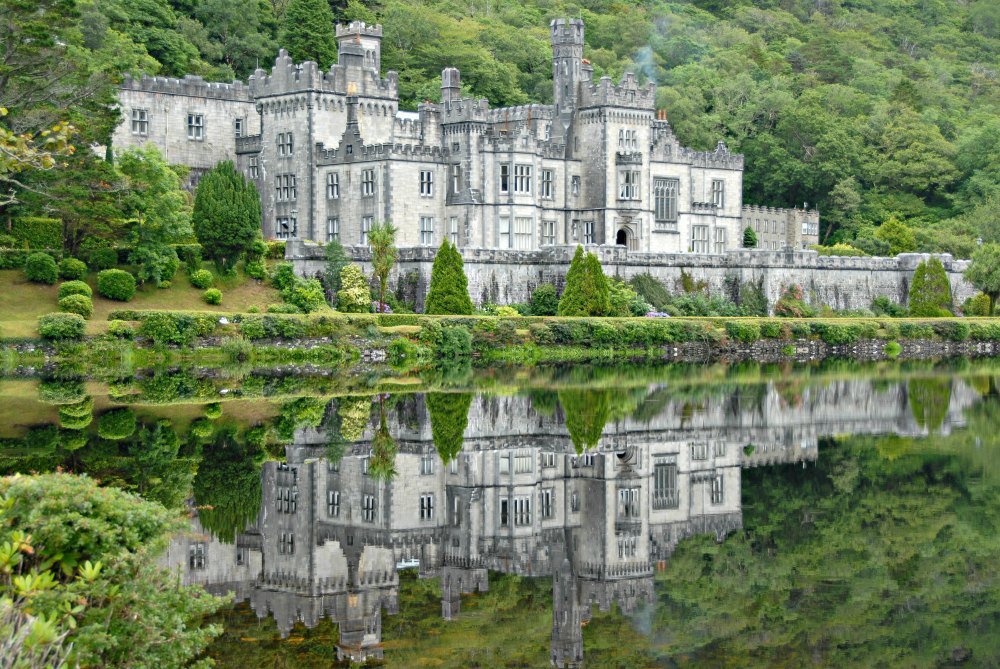 CONNEMARA NATIONAL PARK & KYLEMORE ABBEY
An hour and a half drive from Galway, you'll find picturesque Connemara National Park, a haven of Irish wilderness and home to the bewitching Kylemore Abbey.
Take a self-guided tour through the Abbey, then venture outside to the Victorian walled garden, and let the lush 6-acres of formal flower heaven beguile your senses.
Embrace your inner explorer for a hike through the ancient native woodland and enchanting Celtic Rainforest.
Opt for something as short as the 1 km Dawros River Walk, or the equally short Flora, Fauna, and Folklore trail. Last but certainly not least, the Sruffaunduff Waterfall is also a great choice for a fitting finale to your sojourn.
If you're trying to get the most of Ireland in 7 days, this is a must see and great day trip from Galway.
If you don't have a car, take this Connemara & Kylemore Abbey Full-Day Guided Tour. This specific tour spends the most time at Kylemore Abbey. You'll also stop along the way for many photo opportunities of Connemara countryside.
---
Optional Day Trip – Aran Islands
A day trip to the Aran Islands highlighting Ireland's rugged charms is highly recommended in a Rick Steves Ireland itinerary. We didn't have time to witness the wild beauty of this archipelago, located off the western coast of Galway.
It is definitely something to consider in this area if you are planning a longer than 7 day Ireland road trip.
Departing from Doolin, the ferry takes 1 hour 15 minutes. Cars aren't allowed on the ferry but parking is easy at the pier and bikes available to rent once you arrive on Inishmore.
You can also catch a ferry in Rossaveal on the way to Connemara National Park.
The west coast of Ireland is heavenly. We spent a total of 4 days there and really could have extended to a whole week. Next up is the East Coast part of our trip.
---
7 Day Ireland Itinerary – East Coast
"May the road rise up to meet you" conjures an image of an Irish road with sheep blocking car traffic and an Irish folk music soundtrack.
That's the Ireland shown in countless movies and the one that made me want to see the real thing for myself. That perfect Ireland picturesque scenario is alive and well on the West Coast.
Now, we move to the East Coast of Ireland, visiting Dublin, Enniskerry, and Northern Ireland, with a completely different feel.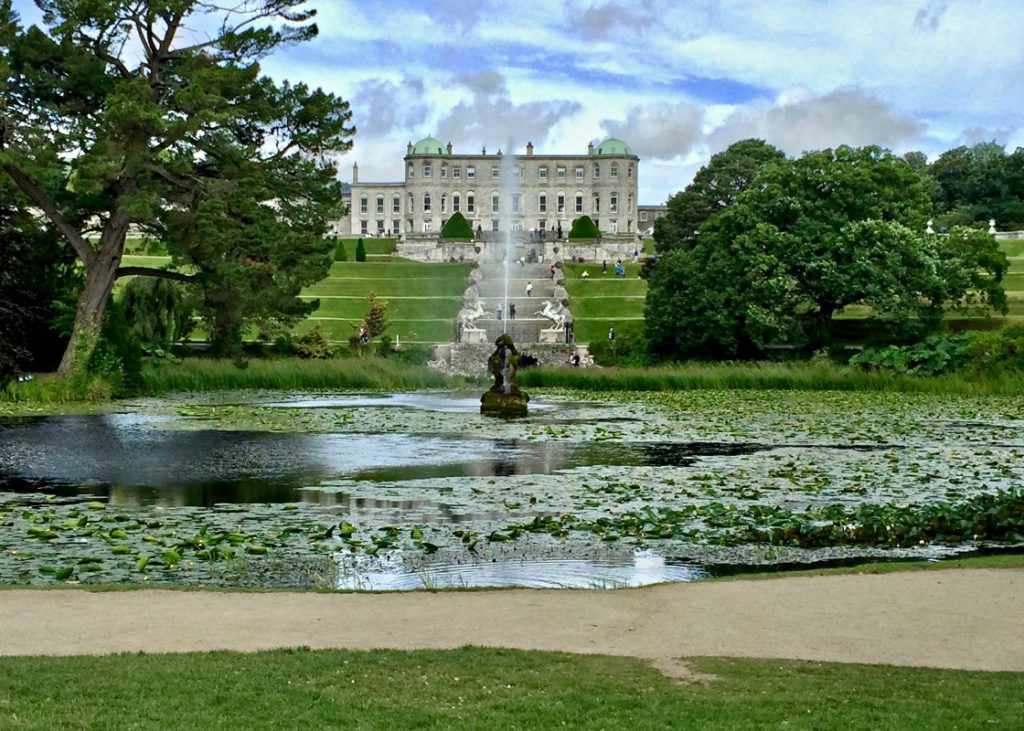 Day 5: County Wicklow
Start your tour of Ireland's east coast in the Wicklow mountains. County Wicklow is a breathtaking Irish paradise where varying lush shades of green stretch as far as the eye can see.
We recommend staying at the 5-star Powerscourt Hotel. It was our favorite hotel in Ireland, that was completely worth the splurge. You'll quickly fall in love with the spacious, beautifully appointed rooms and delectable cuisine.
A slew of amenities and activities await you in the charming town of Enniskerry. Take a swing at golf or set off on one of those enjoyable hikes or running paths exclusively available to hotel guests.
Don't miss the nearby Powerscourt House – a grand 67-room Palladian mansion nestled among 47 acres of gardens that are so incredible. National Geographic ranked them third in their list of the World's Top 10 Gardens.
You can tour the mansion and wander around the ornamental lakes, garden pavilions, terraces and walled gardens – just be careful not to spook the horses!
And if that's not enough for you, a short 3-mile jaunt away from the estate lies Powerscourt Waterfall, Ireland's tallest waterfall. So go on, pack your bags and prepare to be swept off your feet by the unmatched beauty of County Wicklow.
The photo above on the right just shows the lower portion but it gives you a sense of the lush surroundings and parkland. The park is quite large and perfect for a picnic. The Wicklow Mountains is one of 10 Great Day Trips from Dublin.
Day 6: Dublin
Dublin is the buzzing, effervescent jewel in Ireland's emerald crown. You need at least 48-72 hours to explore this lively capital for a whirlwind adventure.
As the cobbled streets sing beneath your feet with a history-laden melody, you'll unearth three key elements of the Irish persona: their love for literature, their skilled craft of conversation, and of course, their unwavering devotion to the bracing pint of black gold – Guinness.
Dublin is one of those places you visit and think 'I could totally live here.' The food is terrific, the vibe is energetic and overall it has a fantastic historic city/modern city feel.
Best Places to Stay in Dublin:
We stayed at the Radisson Blu Royal Hotel. It is well located in the city center therefore everything is within walking distance. The rooms are modern design and very comfortable.
If you are backpacking Ireland or just looking for more affordable Dublin accommodations, try Jacobs Inn Hostel. They have private and bunk rooms, great decor and a terrific location.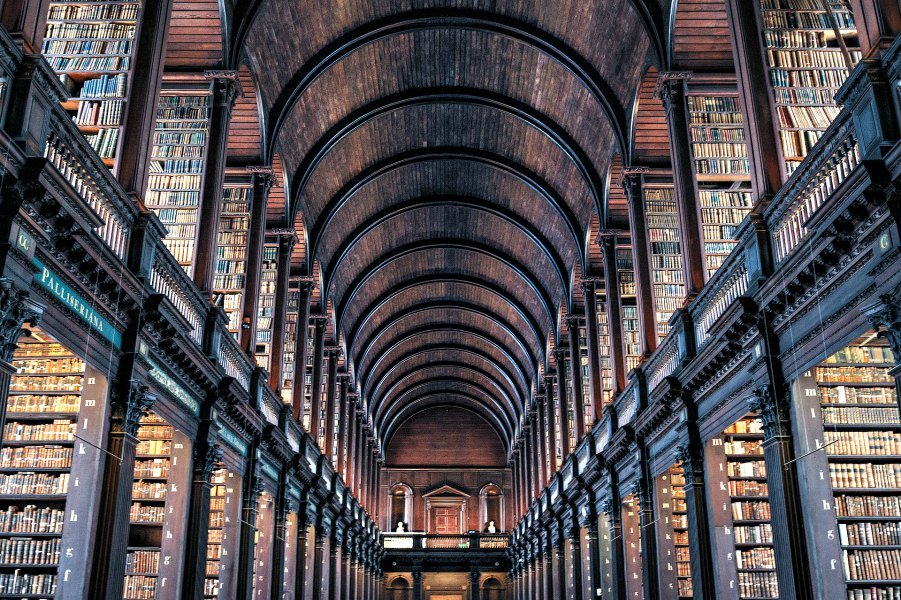 TRINITY COLLEGE
Your worn-out cobblestone strolls deserve a pause at the illustrious Trinity College, where Dubliners' adoration for words can be found cascading through the long room of the Old Library.
Trinity College Library houses the Book of Kells, an Irish national treasure created around 800 AD. It should be high up on your list of what to see in Ireland in 7 days.
The Long Room of the old library, also included in the ticket price, contains 200,000 of the library's oldest books, huge leather-bound volumes in two stories. It is really a sight to see. Get there early so you don't have to wait in line.
Pro Tip: We wasted an hour in line at the Book of Kells which meant we didn't have time to tour Dublin Castle. In hindsight, I would have taken this Fast-Track Book of Kells Ticket & Dublin Castle Tour.
When you are trying to see Ireland in one week, you really need to make the most of your time and waiting in line was just poor planning on our part.
GRAFTON STREET
Very close to Trinity College is Grafton Street, Dublin's bustling epicenter of retail therapy, where shopaholics and tourists flock for their fix of the finest Irish goods.
This lively pedestrian thoroughfare is also filled with colorful characters, talented buskers, and restaurants. Need a break from all the sightseeing? Visit the lush haven of St. Stephen's Green right nearby.
Amidst the placid ponds and impeccably manicured gardens of this 1880s park, one can witness Dubliners basking in their fair city's rare sunny days.
The vibrant symphony of sights, sounds and experiences on Grafton Street offers something for everyone from a fashionista to a music aficionado or a leisurely stroller.
A restaurant that we LOVED was The Rustic Stone, a farm to table steakhouse with absolutely delicious food including numerous choices for vegans as well. It's a 5 minute walk from Grafton Street.
As with all big cities, when you are in a heavily touristy area like Grafton Street or the train station, use an anti-theft travel bag to protect your belongings.
TEMPLE BAR
Ah, Temple Bar – that venerable Irish institution nestled along the south bank of the River Liffey, where spirits run high and the melodies never cease.
What better way to experience the authenticity of Temple Bar than to saunter through its doors and be swept up by the enchanting sounds of traditional Irish music?
With roots stretching back to 1840, this iconic Dublin watering hole has retained its lively charm for nearly two centuries, much like a fine whiskey that only gets better with age.
A pint in hand, you'll be transported back in time, perfectly encapsulating that magic only found in Dublin's fair city. With a bunch of bars in close proximity, you can enjoy the vibrant nightlife in the whole Temple Bar area.
Dublin is one of the best places to visit in March for St. Patrick's Day and the Temple Bar area is a reveler's dream!
GUINNESS STOREHOUSE & JAMESON DISTILLERY
A big attraction in Dublin is the Guinness Storehouse. I love a good factory tour but was disappointed that Guinness does not make beer there so there's not any interesting equipment or actual production.
It is a large, multi-story building with a long self-guided tour that is still interesting. And a free pint of Guinness is included with your ticket.
The best parts of the Guinness Storehouse were the city views at the very top and behind the bar training to pour a Guinness like a pro. You can see I took the job very seriously!
Buy tickets for the Guinness Storehouse tour in advance. It's a VERY popular Dublin attraction.
---
The Jameson Distillery, on the other hand, is an outstanding tour of the actual factory. Jameson Distillery is further away so it's more of a time commitment to take this tour.
It's good to do both tours if you have time but if you have to choose and you like an authentic factory tour, skip Guinness and go to Jameson, unless you love Guinness beer.
---
With our trip to the area being somewhat short, we had to choose between some typical tourist stops.
We did a walking tour of Dublin starting at Ha'penny Bridge, then walked around the exterior of Dublin Castle and St. Patrick's Cathedral on our way to Christ Church Cathedral.
It actually turned out to be a great walk and good overview of Dublin.
If you are choosing between churches, St. Patrick's is deemed the most beautiful inside and Christ Church, pictured above, is the most visited – you should definitely fit at least one into your 7-day Ireland Itinerary.
Day 7: Northern Ireland
There are so many great things to do in Northern Ireland, that one day is just enough to whet your appetite.
However if you only have a one week trip to Ireland and are a Game of Thrones fan or just want to enjoy some breathtaking scenery, County Antrim is the land where ancient history and modern pop culture collide in captivating harmony.
Getting to Northern Ireland from Dublin
When we planned our Ireland itinerary, we decided to fly into Shannon and out of Belfast.
Since a car is not necessary in Dublin, we turned it in and took a Giants Causeway, Dark Hedges, Dunluce & Belfast Tour to get to Northern Ireland. They let us store our luggage in the bus and get off at the last stop in Belfast.
I'm generally not a fan of bus tours but it was a great way to squeeze in some of the top Northern Ireland sights into a 7-day driving tour of Ireland once we no longer had a car.
We learned a ton about Northern Ireland on the drive, we saw every sight we wanted to see and it ended up being a very economical way to transport from Dublin to Belfast.
It just so happened that we were making this trip on July 12, a major holiday in Northern Ireland called The Twelfth that celebrates the Battle of the Boyne.
The celebration includes bonfires, a huge parade in Belfast and consequently most places (except pubs) were closed.
READ NEXT: 12 BEST BOUTIQUE HOTELS IN BELFAST, NORTHERN IRELAND
THE DARK HEDGES
Picture yourself strolling down the now-iconic Dark Hedges, a mesmerizing avenue of serpentine beech trees, all the while feeling as though you've been transported into the mystical realm of Westeros from Game of Thrones Season 2.
As you meander beneath their twisted branches, perhaps you'll imagine yourself encountering the cunning Arya Stark or the brooding Jon Snow on their perilous journeys.
Just remember, despite the enchanting allure of these cinematic surroundings, you remain in County Antrim, so there's no need to fear the White Walkers, no promises about the tour groups though.
All kidding aside, you can easily spend time visiting the Dark Hedges without hundreds of people if you just wait a few minutes for the time between busses.
Another must-see on the Antrim Coast is Giant's Causeway, which is why we made the trek to Northern Ireland.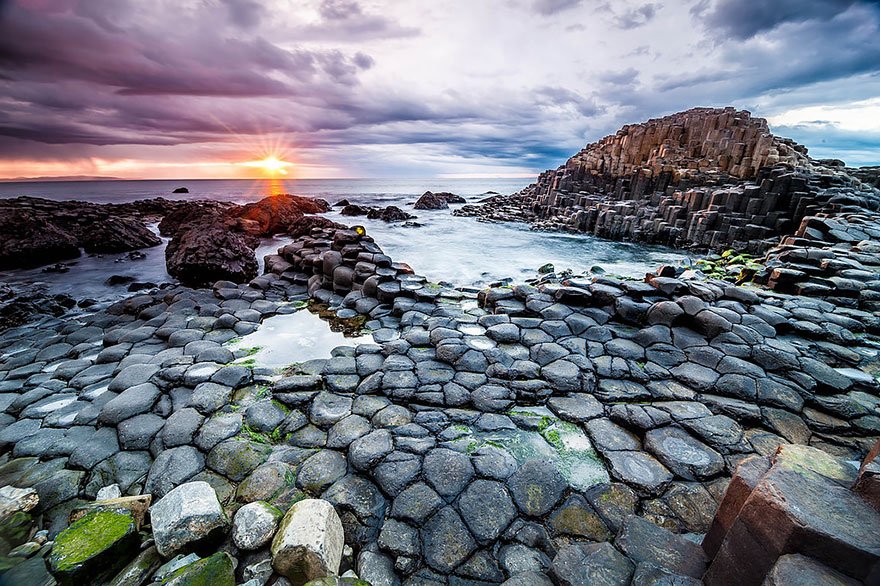 GIANT'S CAUSEWAY
Giant's Causeway is a geological wonder, a mythical battleground, and an Instagrammer's paradise all rolled into one.
The result of volcanic activity from more than 50 million years ago, this UNESCO World Heritage site boasts a baffling array of roughly 40,000 polygonal basalt columns, sculpted by Mother Nature herself.
The Causeway Coast is a visual feast for the eyes, especially in the early morning when the haze gently kisses the water, or at sunset when the golden light transforms the scene into something magical.
For those keen on reaching this awe-inspiring location, the aptly named "blue trail" will have you traipsing along an asphalt path for a mere 10-15 minutes before feasting your eyes upon this one-of-a-kind scenery.
For the more adventurous, hiking the trail along the causeway coastline trail rewards you with a birds-eye-view that puts even the most skilled aerial photographers to shame.
If possible, try to visit at sunset for the best photos. This is definitely an Ireland Vacation highlight!
A 15-minute drive will take you to another stunning stretch of coastline with the Carrick-a-Rede Rope Bridge. Cross the bridge suspended 100 ft. above the sea and explore the land on the other side.
You will find a scenic coastal walk and a chance to see a view of the Scottish Islands. The day we were there was crystal clear. The bridge attendant joked that summer is her favorite day of the year. 🤣
The water here is a gorgeous shade of turquoise and there are a number of beaches in Northern Ireland that are worth a visit if you have time.
A bit further along the coast is Fair Head, a hidden gem in the UK and another filming location for the Game of Thrones.
BELFAST
In Belfast, our final stop in Northern Ireland, we went to a parade and thankfully found an open pub for dinner. It was fun to see everyone out and about enjoying the holiday.
Unfortunately everything was closed that day but there are so many great things to do in Belfast. You should definitely take a trip on the Belfast Wheel to get a bird's eye view of the city from the top of the giant ferris wheel.
We stayed at the AC Hotel by Marriott Belfast (8.5). It was very modern, comfortable and walking distance to everything. We put together a list of the best boutique hotels in Belfast so you have plenty of choices.
---
7 Day Itinerary Ireland: Planning Tips
FLIGHTS: You don't have to fly in and out of the same airport, which allows you more flexibility. The major international airports are Dublin, Shannon, Cork and Belfast.
Being able to squeeze in Northern Ireland is possible by booking your trip in and out of different airports. We started in Shannon, returned our car in Dublin and left from Belfast Airport.
HOTELS; Book Hotels ASAP. The good ones get reserved quickly.
BUDGET: You can easily find affordable hotels and then pick at least one night to stay in a hotel or castle that's fabulous. I would count that as an attraction as much as anything else. Ashford Castle and the Powerscourt Hotel are world-class choices!
CAR RENTAL: Renting a car for self-drive tours is easy and expands your possibilities.
---
Getting Around for This Ireland 7 Day Itinerary
You can take a train to all the major stops but it really limits you from seeing things in between. Cars are easy to rent and affordable.
We use Discover Cars for car rentals in Europe because they have great rates and it's always an easy pick up/drop off.
We picked up our car at Shannon airport. While I was initially nervous to drive in Ireland on the other side of the road, I got the hang of it pretty quickly and was so thankful we opted for the car.
Pro Tip: Most car rentals in Ireland are manual transmission. Make sure you book an automatic if you can't drive a stick shift.
---
Leaving Ireland and on to Iceland
Our 7 day Ireland vacation was part of a multi-country trip. From Ireland, we headed straight to Iceland, which was a short 2-hour flight.
If you want to extend your trip, consider adding on an Iceland Ring Road Trip.
Other Great Summer Trip Ideas:
Like the Best 7 Day Ireland Itinerary for later? Pin it!