Planning a trip to Ireland, the land of intrigue and beauty? Movies set in Ireland showcase the spectacular landscape and exude that Irish charm. If you are looking for a taste of all that the Emerald Isle has to offer, then this is the perfect 7 day Ireland itinerary for you.
To see as many things as possible, it's best to see the country in a one week Irish road trip. Our Ireland Itinerary has natural wonders, exciting cities, heavenly countrysides and more, all packed into 7 days. Throw in the cool accent and some fun pubs and it makes for an awesome trip.
This is the perfect Ireland itinerary if you love a fast paced, fun trip and wait until you see what's on tap for the last few days in Northern Ireland!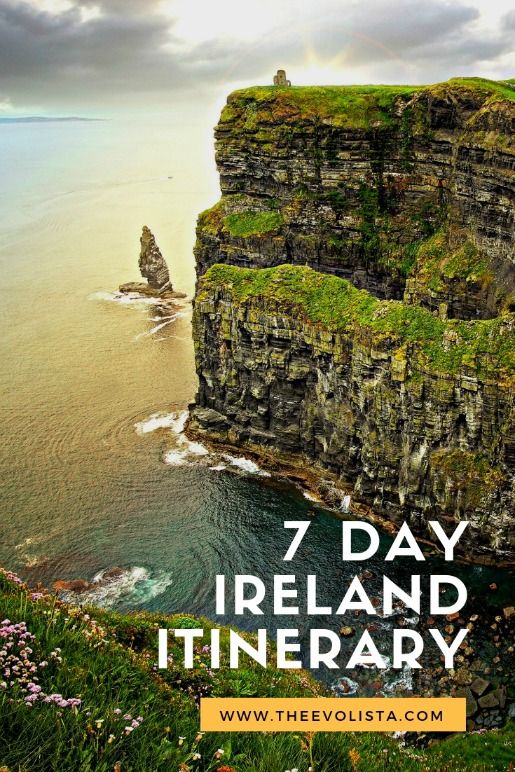 Is 7 Days in Ireland Enough?
You could easily spend a few weeks in Ireland but the reality is that most people have a limited amount of time. The country is small enough that you can cover a lot of ground in just one week in Ireland, on a self-drive road trip. So let's buckle up and get moving through the cities and countryside towns of the Emerald Isle.
This 7 day Ireland itinerary will give you the must see places to visit in Ireland for the first time. We had to make some choices, like missing Cork and the Blarney Stone but we added in Northern Ireland and the Antrim Coast which was unparalled. I think you'll make the same choice when you see the pictures below!
Best Time to Travel to Ireland
The best time to travel to Ireland is the spring and fall. It will allow you to skip the busy summer crowds, that are not as heavy as other mainland European destinations, but will impact you in places like the Ring of Kerry where you can end up stuck behind tons of tour busses.
Also, if you rent a car and are unfamiliar with driving on very skinny roads, you will not want to be dealing with the busses either.
Ideally April, May, June, September and October are the best months to visit Ireland. You will have decent weather and a chance to take in all the fun activities Ireland has to offer.
Weather in Ireland
Spring – Temperatures range from 46 – 60F gaining most of the warmth in the latter half of May. Spring sees lots of sunny days and flowers are in bloom.
Summer – The warmest (60-70F) and driest months are July and August with up to 18 hours of daylight. Expect plenty of sunny moments but know that you will also have lots of cloudy days too. Don't forget to pack a jacket.
Fall – Autumn colors abound and the temperatures drop slightly (50-65F). There are more rainy days.
Winter – Definitely the chilliest (39-42F) and rainiest time to visit. The wind picks up and the fog rolls in. Snow can happen but is unusual. Warm up the way the locals do in Irish pubs.
Getting to West Coast Ireland to Start this Itinerary
From Dublin, you can take a train (4 hours) or drive (2.5 hours) to get to the West Coast of Ireland. We flew directly into Shannon airport, because it was easy to get flights. Another bonus for flying into Shannon is that the airport is much smaller and less crowded than Dublin airport.
If you plan to spend time in the area, before heading off on your Irish road trip, check out nearby Bunratty Castle. We landed at 6am and it wasn't open yet but it is supposed to be a step back in time, a folk park in a real medieval castle.
Shannon is also minutes away from the city of Limerick. We spent the morning in Limerick, starting with breakfast at Hook and Ladder, the most delicious cafe and bakery.
Limerick is somewhat small and accessible on foot. We walked around to see some sights, including King John's Castle, a 13th-century riverside fortress. Our Ireland itinerary didn't include spending more time in Limerick, however, if you are interested in sticking around, here are 23 fun things to do in Limerick.
---
7 Days in Ireland Itinerary
Day 1: Killarney National Park, Muckross House, Ross Castle
Day 2: Dingle Peninsula, Slea Head Drive
Day 3: Cliffs of Moher, The Burren, Dunguaire Castle
Day 4: Galway, Connemara National Park, Kylemore Abbey
Day 5: Wicklow Mountains, Powerscourt Estate
Day 6: Dublin, Trinity College, Book of Kells, Guinness Storehouse
Day 7: Giant's Causeway, Antrim Coast, Belfast
7 Day Ireland Itinerary – West Coast
County Kerry 2-3 Days
For this portion of the trip, we stayed at the Great Southern Killarney, in the town of Killarney. It's a nice hotel and centrally located. The rooms were both spacious and spotless, and the staff was great.
The Killarney Park Hotel was more noteworthy but unfortunately fully booked. Downtown Killarney is a lively tourist town that has pubs, music and shops.
First up was seeing the sights around Killarney. Killarney National Park is such a scenic area in County Kerry. With mountains, lakes, waterfalls, castles and more, it is definitely worth a few days of your visit.
Muckross House, shown above, is set on a stunning piece of land. You can tour this Victorian mansion and the gardens.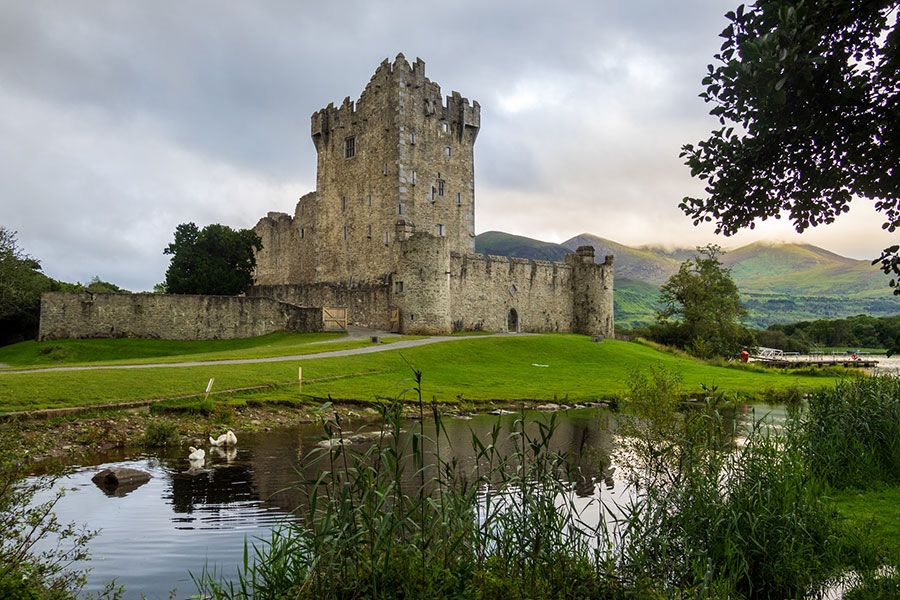 Ross Castle was built in the 15th century and amazingly still stands today. The tour explains the set up of a castle and how life worked there. I love these historic places because it reminds me of some great Netflix shows but this is actually real.
Torc Waterfall is an easy hike through a pristine area of Killarney National Park. As you get higher, there is a gorgeous view of the valley below.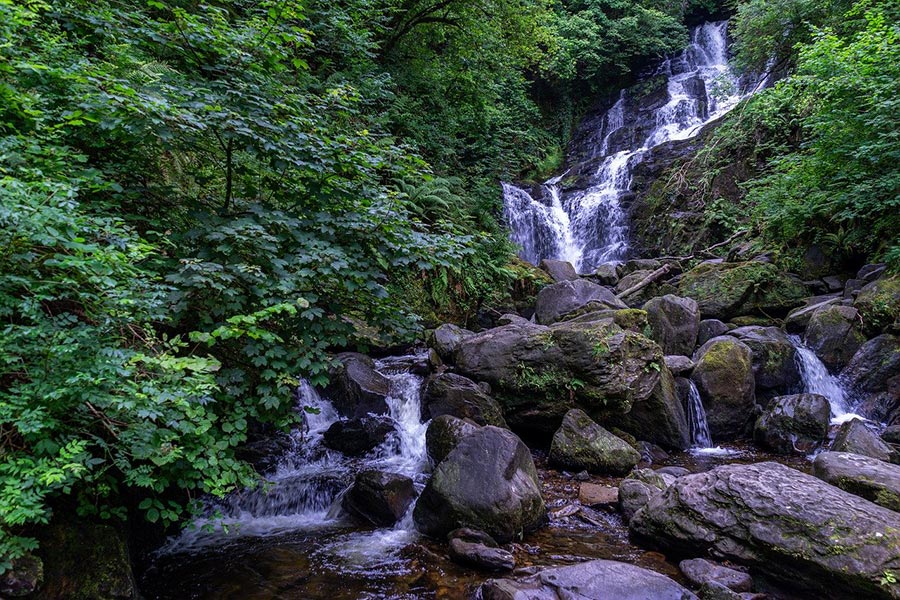 Dingle Peninsula – Day Trip
We decided against the Ring of Kerry tour because that's where all the tour buses were going. Instead, we headed out to the Dingle Peninsula for a different view of the Wild Atlantic Way and I'm so glad we decided to drive ourselves.
It was about an hour's drive, on Irish roads (just like the ones you see in the movies). Driving in Ireland, on the other side of the road, is not that disconcerting, I got way more comfortable after a few hours and I was so glad because it is definitely one of the best ways to see Ireland for the first time.
The size of the road is the only thing that's a little stressful. Imagine driving at a fast speed on a road that's the width of 2 parking spaces shared by you and oncoming traffic.
Slea Head Drive is a 26 mile loop that has striking views of the coast. You can drive in about an hour or make a day of it and rent bikes at Foxy John's hardware store on Main Street.
Dingle is a cute little sleepy town. If you have always wanted Dingle Ice Cream, this is the place to get it! Humor abounds in Dingle. It's also a great place to do a pub crawl at night and hear some Irish folk music.
County Clare – Transportation day from Killarney to Galway
Driving from County Kerry to Galway, you pass through County Clare where you can experience the most majestic sites on the isle. This confirmed the fact that driving yourself is one of the best ways to visit Ireland. You would miss so much if you were stuck on a tour bus.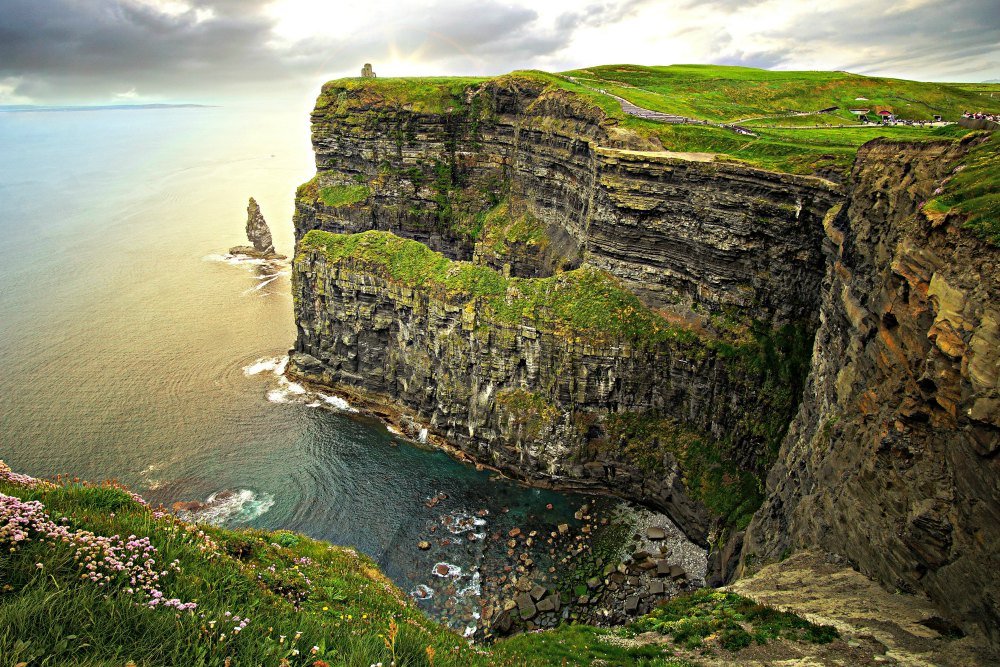 Cliffs of Moher is one of the iconic views in Ireland. Carved originally by ice, they are 700 feet tall at the tallest point and run for more than 8 miles. There is a coastal trail you can walk that links the villages of Liscannor and Doolin.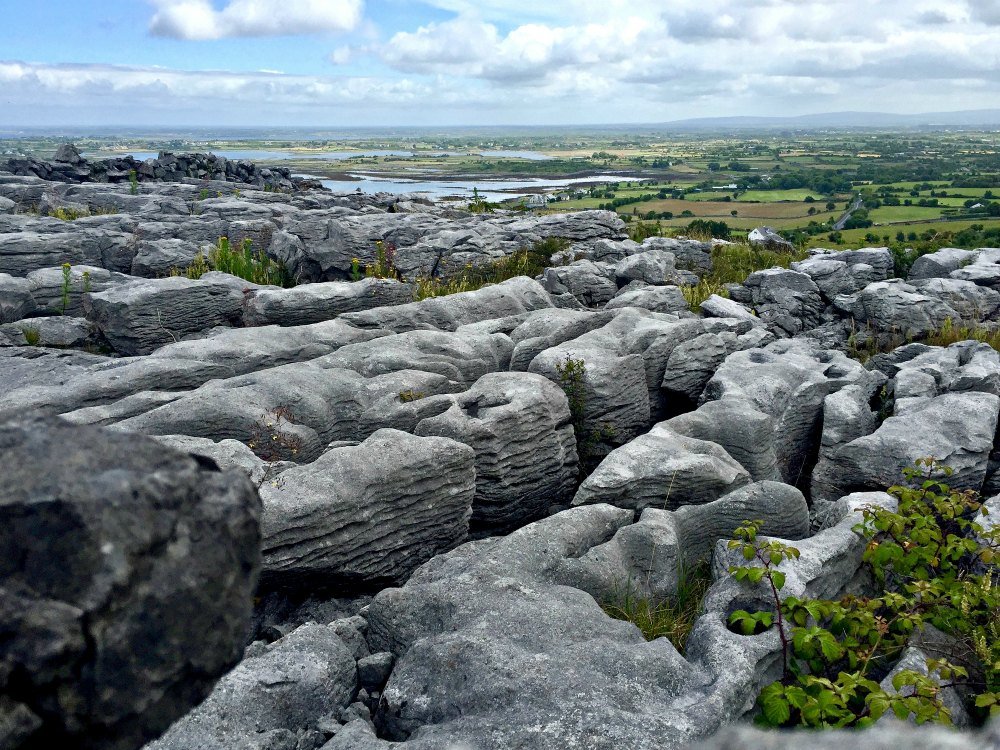 The Burren, shown above, is described as otherworldly and you can see why. The rock formations are so different and the views from there are amazing. Since it's right on the way, it definitely deserves a spot on your itinerary if you're trying to see Ireland in a week.
Aran Islands – Day Trip Option
The Aran Islands are a great one day trip option (and highly recommended by Rick Steves if you're a fan) to add onto your 7 day Ireland road trip itinerary. Departing Doolin, a 45 minute drive from the Burren, the ferry takes 1 hour 15 minutes.
Cars aren't allowed on the ferry but parking is easy at the pier and bikes available to rent once you arrive on Inishmore. You can also catch a ferry in Rossaveal on the way to Connemara National Park.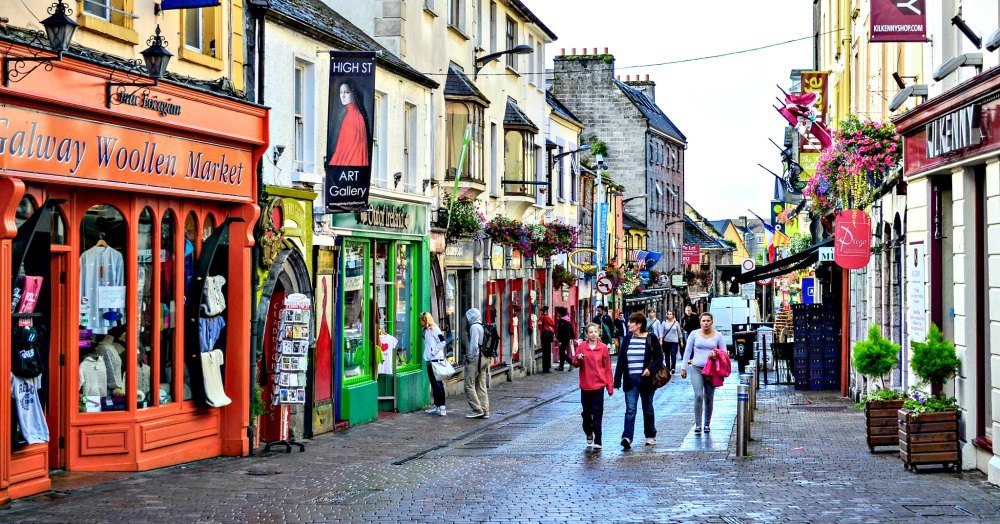 County Galway 1-2 Days
The city of Galway is at the innermost point of Galway Bay. Along the coast of Galway you will find everything from castles to white sand beaches to small villages.
The city of Galway is the largest in the west of Ireland. It is a 2 hour drive from Dublin and a very lively and friendly place.Galway was very different and much bigger than I expected.
Meandering down the many charming 18th-century village streets is so much fun with all the shops, art galleries, and restaurants galore. One of the best things to do in Galway is join the huge party, grab a pint at one of the vibrant pubs, live music venues or one of the many festivals!
Do you have a dream board? I had a photo of Dunguaire Castle (for Ireland) on mine. It's on the outskirts of Galway and I was determined to see it in person. It's incredible how putting things on a board makes them happen.
Connemara National Park – Day Trip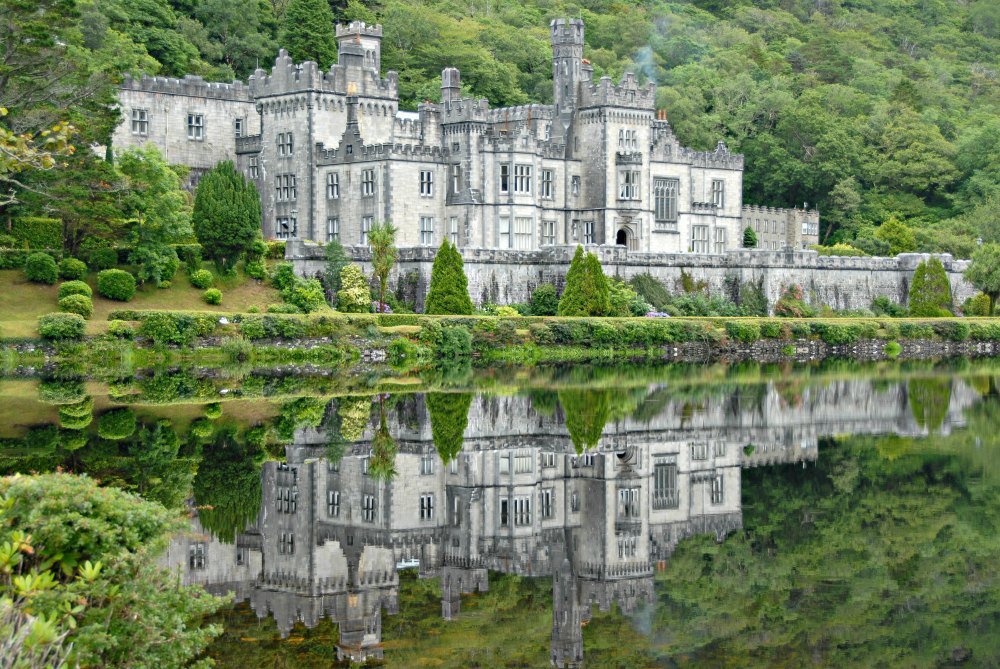 An hour and a half drive from Galway though picturesque Connemara National Park takes you to Kylemore Abbey. You can take a tour of the Abbey and Gardens. If you're trying to get the most of Ireland in 7 days, this is a must see and great day trip from Galway.
The west coast of Ireland is heavenly. We spent a total of 4 days there and really could have extended to 5. Next up is the East Coast part of our trip. If you're looking for summer trip ideas, check out our trips to Iceland and Alaska. Both were incredible as well!
7 Day Ireland Itinerary – East Coast
"May the road rise up to meet you" conjures an image of an Irish road with sheep blocking car traffic and an Irish folk music soundtrack. That's the Ireland that I've seen in countless movies and the one that made me want to see the real thing for myself.
I found that perfect Ireland picturesque scenario on the West Coast. Now, we move onto the East Coast of Ireland. The areas that we visited, Dublin, Enniskerry, and Northern Ireland had a completely different feel.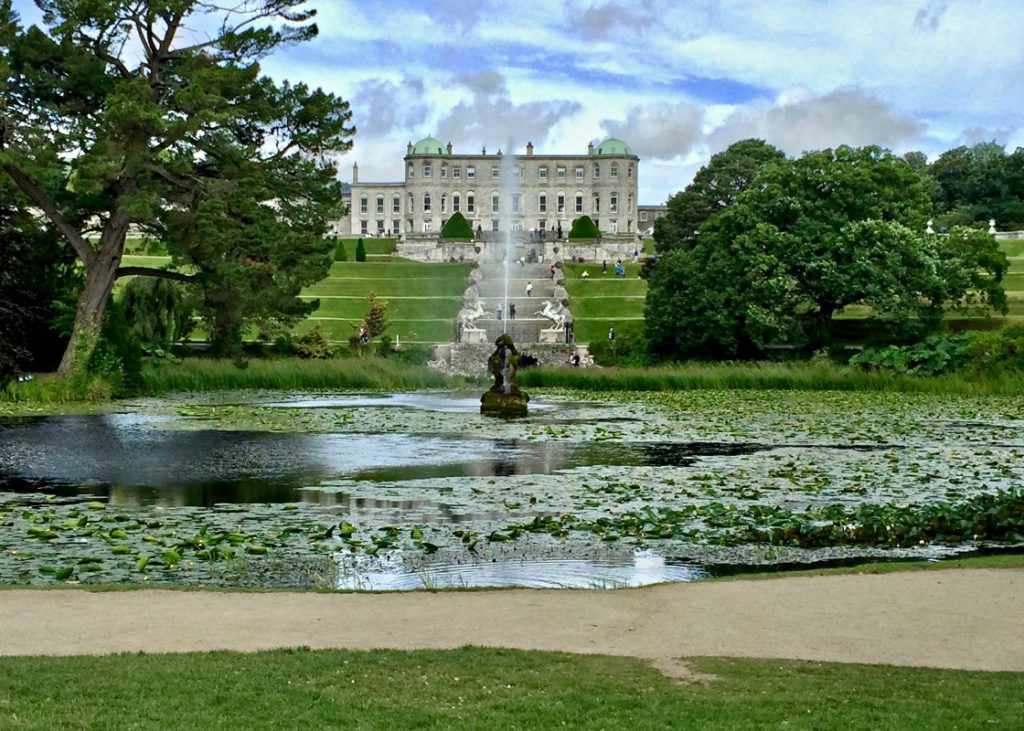 County Wicklow – 1 Day
We spent 4 days on the East Coast starting in the Wicklow mountains. This was actually a detour from our original plan and ended up being one of the best parts of our trip.
The area is breathtaking with varying lush shades of green as far as the eye can see. Our home base was the 5-star Powerscourt Hotel and it was our favorite hotel in Ireland. The spacious, beautifully appointed room, delicious food, slew of amenities and impeccable service was 100% perfect.
The hotel staff directed us to the available activities in the town of Enniskerry including some really enjoyable hikes and running paths that were only accessible to hotel guests.
Just a short walk from the hotel is the Powerscourt Estate, a popular stop for many on a first trip to Ireland. Powerscourt House is a 67-room Palladian mansion. The 47 acres of surrounding gardens were voted #3 in National Geographic's World's Top 10 Gardens. The ornamental lakes, garden pavilions, terraces, walled gardens, horses and more are magnificent.
About 3 miles away from the estate, passing verdant countryside, is a parkland which has the Powerscourt Waterfall, the tallest waterfall in Ireland. The photo above on the right just shows the lower portion but it gives you a sense of the lush surroundings and parkland. The park is quite large and perfect for a picnic. The Wicklow Mountains is one of 10 Great Day Trips from Dublin.

Dublin 2-3 Days
Dublin is one of those places you visit and think 'I could totally live here.' The food is terrific, the vibe is energetic and overall it has a fantastic historic city/modern city feel.
We stayed at the Radisson Blu Royal Hotel. It is well located in the city center therefore everything is within walking distance. The rooms are modern design and very comfortable. This hotel was a nice surprise. We booked at the last minute and most hotels were unavailable.
If you are backpacking Ireland or just looking for more affordable Dublin accommodations, try Jacobs Inn Hostel. They have private and bunk rooms, great decor and a terrific location.
Trinity College and Grafton Street
Trinity College Library houses the Book of Kells, an Irish national treasure created around 800 AD. It should also be high up on your list of what to see in Ireland in 7 days.
The Long Room of the old library, also included in the ticket price, contains 200,000 of the library's oldest books, huge leather-bound volumes in two stories. It is really a sight to see. Get there early so you don't have to wait in line.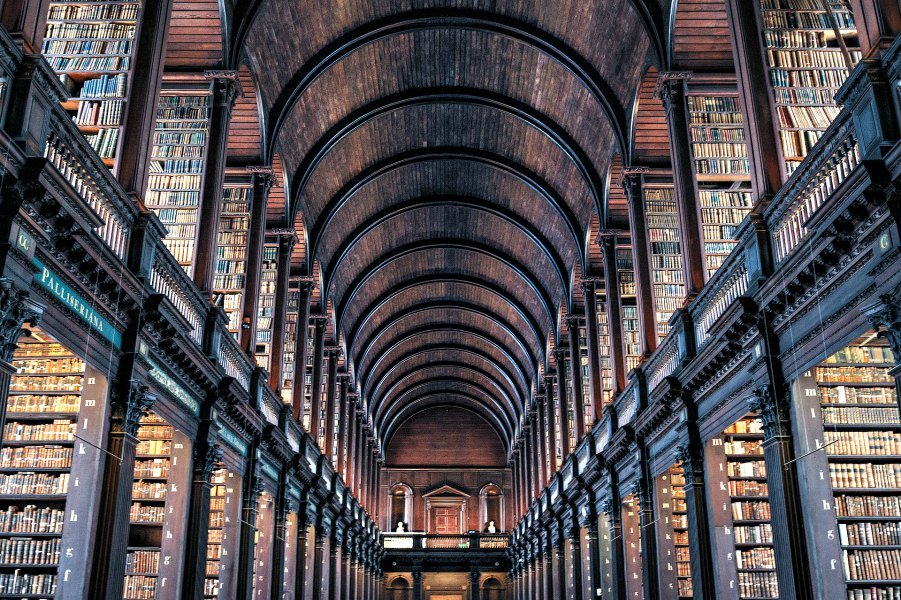 Very close to Trinity College is Grafton Street. The bustling shopping street is filled with colorful characters, shops, and restaurants. A restaurant that we LOVED was The Rustic Stone, a farm to table steakhouse with absolutely delicious food including numerous choices for vegans as well.
Ireland is also well-known for its pubs. Temple Bar is one of the most famous places to grab a pint. We were there in the day but the real time to go is at night. With a bunch of bars in close proximity, you can enjoy the vibrant nightlife.

Guinness Storehouse & Jameson Distillery
A big attraction in Dublin is the Guinness Storehouse. I love a good factory tour but was honestly disappointed. It is a large, multi-story building with a long self-guided tour. Unfortunately, Guinness does not make beer there so there's not any interesting equipment or actual production.
The best parts of the Guinness Storehouse were the city view at the very top and behind the bar training to pour a Guinness like a pro. A free pint of Guinness is included with your ticket. Pro tip: Buy tickets for the tour online ahead of time here.
The Jameson Distillery, on the other hand, is an outstanding tour of the actual factory. If you like an authentic factory tour, skip Guinness and go here unless you love Guinness. Jameson Distillery is further away so it's more of a time commitment to take this tour.
With our trip to the area being somewhat short, we had to choose between some typical tourist stops. We started at Ha'penny Bridge, then walked around the exterior of Dublin Castle and St. Patrick's Cathedral on our way to Christ Church Cathedral. It actually turned out to be a great walk and good overview of Dublin.
If you are choosing between churches, St. Patrick's is deemed the most beautiful inside and Christ Church, pictured above, is the most visited – you should definitely fit at least one into your 7-day Ireland Itinerary.
7 Day Ireland Itinerary – Northern Ireland
There are so many great things to do in Northern Ireland, that you should plan to spend at least one day at a minimum. Whether you're a fan of Game of Thrones or just want to enjoy some breathtaking scenery, you won't be disappointed.
A highlight is a visit to the Dark Hedges. This ethereal avenue of beech trees was a filming location from Game of Thrones Season 2. Another must-see on the Antrim Coast is Giant's Causeway, which is why we made the trek to Northern Ireland.
Getting to Northern Ireland from Dublin
When we planned our Ireland itinerary, we decided to fly into Shannon and out of Belfast. Since a car is not necessary in Dublin, we turned it in and took a guided bus tour to Northern Ireland. I'm generally not a fan of bus tours but it was a great way to squeeze Northern Ireland into a 7-day driving tour of Ireland once we no longer had a car.
We learned a ton about Northern Ireland on the drive, we saw every sight we wanted to see and it ended up being a very economical way to transport from Dublin to Belfast.
It just so happened that we were making this trip on July 12, a major holiday in Northern Ireland called The Twelfth that celebrates the Battle of the Boyne. The celebration includes bonfires, a huge parade in Belfast and consequently most places (except pubs) were closed.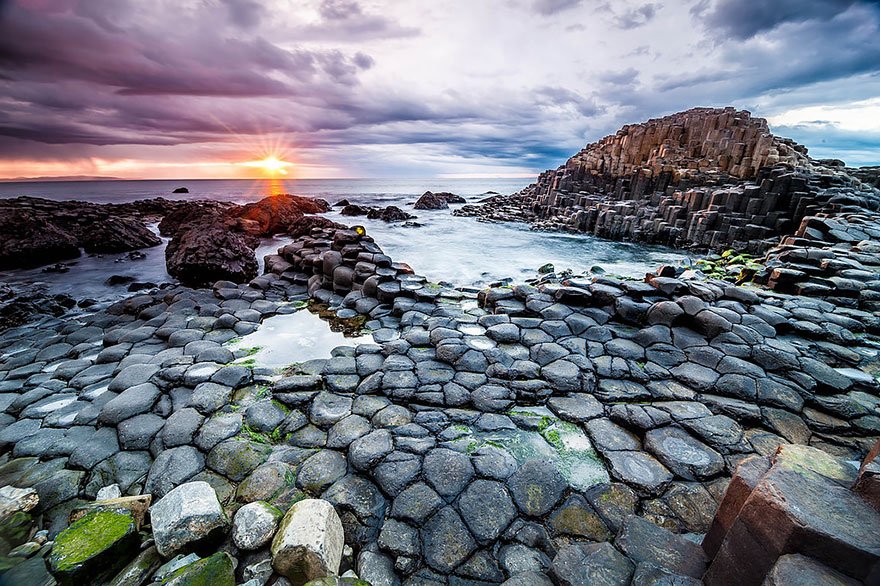 Antrim Coast
Giant's Causeway is the result of volcanic activity from more than 50 million years ago. Approximately 40,000 interlocking geometric basalt columns line the Causeway Coast and are incredibly picturesque. If possible, try to visit at sunset for the best photos. This is definitely an Ireland Vacation highlight!
A 15-minute drive will take you to another stunning stretch of coastline with the Carrick-a-Rede Rope Bridge. It was fun to cross the bridge suspended 100 ft. above the sea. You will find a scenic coastal walk and a chance to see a view of the Scottish Islands. The day we were there was crystal clear. The bridge attendant joked that summer is her favorite day of the year. 🤣
As you can see the water here is a gorgeous shade of turquoise and there are a number of beaches in Northern Ireland that are worth a visit if you have time.
Belfast
In Belfast, our final stop in Northern Ireland, we went to a parade and thankfully found an open pub for dinner. It was fun to see everyone out and about enjoying the holiday.
Unfortunately everything was closed that day but there are so many great things to do in Belfast. You should definitely take a trip on the Belfast Wheel to get a bird's eye view of the city from the top of the giant ferris wheel.
7 Day Itinerary Ireland: Planning Tips
Book Hotels ASAP. The good ones get reserved quickly.
If your budget is limited, pick at least one night to stay in a hotel or castle that's fabulous. I would count that as an attraction as much as anything else. Ashford Castle and the Powerscourt Hotel are world-class choices!
You don't have to fly in and out of the same airport, which allows you more flexibility. The major international airports are Dublin, Shannon, Cork and Belfast.
Renting a car for self-drive tours is easy and expands your possibilities.
The Best Way to Get Around Ireland
You can take a train to all the major stops but it really limits you from seeing things in between. Cars are easy to rent and affordable. We picked up ours at Shannon airport. While I was initially was nervous to drive on the other side of the road, I got the hang of it pretty quickly and was so thankful we opted for the car. Pro Tip: Most car rentals in Ireland are manual transmission. Make sure you book an automatic if you can't drive a stick shift.
Leaving Ireland and on to Iceland
Our 7 day Ireland vacation was part of a multi-country trip. From Ireland, we headed straight to Iceland, which was a short 2-hour flight. If you want to hear about one of our BEST TRIPS EVER, read about our road trip around the Iceland Ring Road.
Other Great Summer Trip Ideas:
Like this Post? Pin it!