Every time I write a year in review post, I realize how much has changed. This year, I'm completely blown away. Our vision truly came together in 2019 and The Evolista is thriving as a Travel Blog heading into 2020.
The Evolista was originally started as website for women 40+ who's lives were evolving because their kids were growing up and roles were changing. The content was about travel, health, wellness, fashion and things that make you feel vibrant. What we realized is that while all of those things were important, travel was really the thing most parents want to do as soon as their kids are big enough. Travel also happens to be the thing we'd rather do more than anything else.
We Knocked 11 Countries Off The World Travel Challenge in 2019
We set a goal in 2018 to travel to 50 new countries over 10 years. It's funny how setting a goal puts you into motion to achieve it. The original thinking was 5 new countries a year, which seemed like a lot but doable. Somehow, we did a ton more than that in 2019 in addition to visiting countries we've already been to. Traveled to these places and you can click on any of them to see more: Banff • New York • Cuba • Belize • Guatemala • Tulum • Portugal • Malta • Turkey • Croatia • Montenegro • Bosnia • Paris • Santorini • Jordan • Egypt • Utah • Sedona
Our Top 2019 Favorite Travel Moments:
Seeing the Pyramids of Giza – On our bucket list forever and it finally happened. Out of everything I've seen in the world, including the Great Wall of China, Machu Picchu, Petra, it may be the most impressive. The Great Wall is bigger and would have been harder to construct but a lot of it is off in the distance. The Pyramids are right in front of you and unbelievably huge. It was truly mind-blowing to see them.
Abraham Lake bubbles – So many people don't know about Abraham Lake and other fly from all corners of the earth to see the trapped frozen methane bubbles. It's extraordinarily beautiful and so easy for anyone from North America to get to. See our trip video here or our Banff in Winter blog post here.
Flying over the Great Blue Hole in Belize – this was sooooo much fun. The Great Blue Hole is an amazing sink hole that's part of the Belize Barrier Reef. The advanced dive is on every diver's bucket list. For the rest of us, the best way to view it is from the air. Check out our flight here.
Hot Air Balloons over Cappadocia – We had never been hot air ballooning so the fact that it got to be over otherworldly Cappadocia with 150 other balloons at sunrise was spectacular. Here's our trip video.
Dead Sea – We thought going to the Dead Sea would be a "jump in to say we did it" and that's it. We were so wrong! First – it's the lowest point on earth, 1,300 feet below sea level. Our resort created a whole "going in the Dead Sea experience" that included a full body mud masque and salt rub. The water itself had a completely oily feel and being so buoyant was wild. From beginning to end, it was so much fun and so unique.
Wadi Rum – We love glamping and cool desert experiences and Wadi Run was AWESOME! We stayed in a martian bubble tent, got up to see sunrise in the desert all alone in the gorgeous part of the world. Jordan should be high up on your bucket list. We didn't even mention Petra here which was also amazing.
Montenegro – One of the prettiest countries we've ever been to and it's off most people's radar. If you love hiking, you love incredible views or just beautiful European lake towns, Montenegro is such a treat!
Our 2019 Travel Fails – Of Course We Had Some!
Travel is not all roses as anyone knows who has sat in an airport waiting for a delayed flight. Sometime things go wrong through no fault of your own and other times there are helpful lessons to be learned.
Getting sick in Cuba – It was such an unfortunate bummer to get sick in Cuba because I was there alone. If Guy had been with me, I would have managed and stayed on the trip. Solo travel is something I've done multiple times but I realized my capacity for dealing with things alone is not the same as with company. There were multiple lessons which I put in my Advice for Visiting Cuba.
Missing a flight in Malta – Again on my own. I arrived 45 minutes before my flight and Turkish Airlines wouldn't take my checked bag. So I had to pay €300, wait 12 hours for the next flight and miss my connection – all for a big suitcase. Lesson: In this situation, the airport taxi that was an hour late caused the situation. I'm also back to traveling with a carry on only which is so much easier and cheaper!
Dealing with all the touts in Egypt – We are so glad we went to Egypt and highly recommend it. It's a trip everyone should take at least once in a lifetime. The amount of people that bug you around some of the tourist sights just got really old quickly. It absolutely wouldn't dissuade me from going but you should read our Egypt Travel Tips if you are going to minimize the headaches.
Driving to the Dead Sea – We arrived at 3am and rented a car. It had no gas and in hindsight, we should have refused it. Instead we set off to get gas which completely threw off the navigation. So we ended up driving crazy winding roads in the middle of nowhere to get to the Dead Sea. It was a total nightmare because we were so tired. Lesson: Never accept a rental car without gas and don't arrive in the middle of the night.
2019 Changes Moving into 2020
1. More Blog Posts
2019: Shifted the focus from Instagram back to the blog. I started on social media to promote the blog but it took on a life of it's own. With an increase on creating regular blog content, blog views went from 2,500 per month to 18,000 per month. I seriously wish I had realized this earlier.
2020: There will be new travel blog posts Monday, Wednesday & Fridays. Our goal is to create really helpful travel posts that you can use to plan your trips. If there are any locations you'd like to see us cover, tell us!
2. YouTube
2019: We started a YouTube channel by creating videos from things we had captured on our phones while we traveling. The goal in starting the channel is to show what it really feels like at a location in a way that goes beyond pictures and the written word.
2020: We are posting one new travel video per week on Wednesdays and taking it one step at a time to see if this really adds to our reader's experience. Subscribe to our channel so you don't miss any videos.
3. Social Media
2019: We changed our Instagram posting schedule to 2-3/week instead of 5-6/week. We expanded our Pinterest account from 40k monthly impressions to 2.5 million. We love Pinterest! It's such a great resource for travel in 2020. We post on Facebook 4-5/week. We still haven't figured out Twitter but we post occasionally there too.
2020: We will continue doing what we are doing now. If there's anything you'd like to see us change, we'd love to hear about it.
4. Travel Partnerships and Advertising for 2020
2019: We worked with some amazing hotel brands this year like Four Seasons, Auberge and Nikki Beach. We also did some sponsored posts for products we love and thought you might like too. We turn down 90% of what is offered to us. Our sponsored posts need to meet 3 criteria – we have to love it, we have to think you might love it too, and it needs to fit our overall brand. We also include affiliate links in our content that we believe adds value for you – whether it's a new suitcase we love or the best day tour to take. Our newest affiliate partnership that will add so much benefit to our readers is for mileage credit cards. We get asked constantly about the best credit card deals and now we have an avenue to share the latest, greatest offers consistently.
2020: We are most excited about expanding the credit card offer content and showing you how to get the best travel deals that will allow you to travel more for less money. We will also continue working with travel brands we love and share interesting places and products.
5. Expect to See a Whole Lot More Travel With Guy in 2020
One of the biggest changes this year was having Guy be my full partner in all things Evolista. For anyone who doesn't know, he takes 95% of all the photos. Beyond the photos, he's a part of everything that's happening behind the scenes and our direction. Everyone always asks if he has a job and the answer is yes. He travels with me on his vacation time.
A little back story, I met Guy on vacation in Mexico at 22 years old. We eloped after 6 weeks (married for 29 years now), then moved abroad and lived in Paris for 6 months. One of the things we've shared since the beginning is our love of travel. We're both really adventurous and we LOVE new places and experiences. When we had kids, it definitely cut back our ability to take big international trips. Mostly we did US travel and kid activities the whole time. Our first big trip outside of North America without the kiddos was Japan – 14 years after we had kids! That opened the flood gates and travel became a priority taking 1-2 big trips a year.
Now, we just like going anywhere. Whether it's a big international trip or a weekend getaway close to home, we love fun things. We are not independently wealthy and we do not have unlimited time on our hands. Travel is just our priority. When we're home, we rarely go to expensive dinners and we don't spend a lot of money buying things. We focus our time and resources on going places and doing things that interest us. We also use credit card points to fund a big portion of our travel.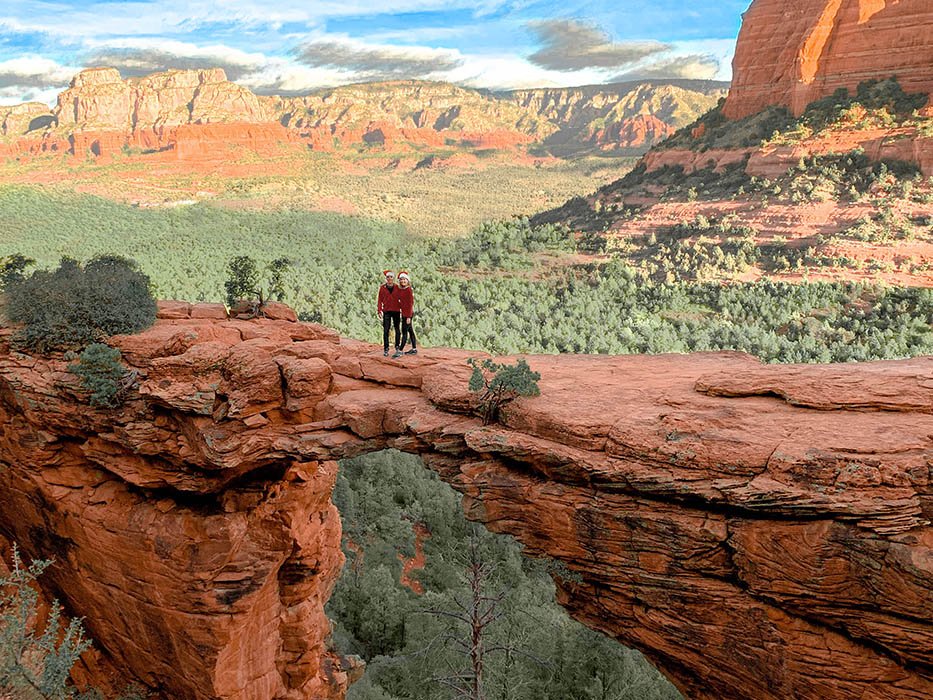 Our 2020 Goal – Making Travel More Accessible
Adventure Travel in North America – While we will continue with some big bucket list trips for our travel challenge, we want to uncover more adventures right near home in 2020. We also love active travel so expect to use us get full use of our National Park Pass.
Travel for less – We will be sharing credit card offers regularly starting with the best cards to get right now to how to use your points for free travel. We will also share any and all great travel deals.
Bringing travel into your house – We love travel and everything about it from great hotel mattresses and cool international decor to the most delicious food. Since all of us are often arm chair travelers, we want to find ways to bring the excitement and love of travel into our daily lives.
Where to Travel – We started a series of Best Places to Travel to give you tons of ideas or just have something fun to look at once a month. Check out the Best Places to Visit in January.
Responsible Travel – Thankfully there is a movement away from over tourism and travel with a huge carbon footprint. What that means for all of us is opportunities to explore up and coming destinations in 2020 and more local travel.
We haven't finalized our 2020 travel list yet but you'll know as soon as we know. Where are you headed for 2020? What's at the top of your bucket list?
---
Our Favorite Travel Items

---